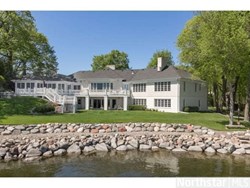 'In the past few months, we've seen a substantial increase in the sale of luxury properties,' said Barb Jandric, president of Edina Realty.
Edina, MN (PRWEB) October 03, 2013
Overall, home sales have been up considerably in all price brackets, but sales of upper price bracket properties – homes valued at $500,000 and above – are up nearly 30 percent.
"In the past few months, we've seen a substantial increase in the sale of luxury properties," said Barb Jandric, president of Edina Realty, citing data from the RMLS that reports pending sales of homes priced at $500,000 and above were up 28 percent in August 2013 over August 2012.
What's going on in the upper bracket is reflective of the housing market overall: as of August, 2013, home sales were up, housing prices were up, and buyer competition remains fierce, Jandric said.
According to the Minneapolis Area Association of REALTORS® (MAAR), pending sales are up 9 percent, the median sales price is up 17 percent to $208,000 and new listings are up 16 percent in the 13-county metro area.
However, housing experts agree that we are not in a housing bubble. "Government oversight and tighter lender regulations have led to greater consumer protections," Jandric said. "Price growth will likely moderate as more homes come on the market, more sellers come out from underwater and the interest rates rise.
"All three of these things are happening in our market right now," Jandric said. "And although they're rising, sales prices are still well below where they were during the bubble years, even when adjusted for inflation," she said.
Because of the low inventory of homes for sale, buyer competition is fierce for well-maintained and right-priced homes in desirable neighborhoods. Homes are on the market only 70 days on average – down 34 percent from last August. Traditional homes are fetching 97 percent of their asking price, due to the shrunken inventory of homes for sale and buyer competition. However, interest rates are expected to rise, which may affect buyer confidence.
"Buyer activity is up with people visiting edinarealty.com over 2 million times every month, where they can search 100 percent of active property listings in our region," Jandric said.
Currently, there are 3,850 homes over $500,000 for sale listed on the Edina Realty website. Every one of Edina Realty's 55 offices has agents who specialize in upper bracket homes. Plus, the scope of Edina Realty's Exceptional Properties division expands well beyond the Midwest; Edina Realty participates in an international real estate network that includes more than 170,000 agents in over 30 countries.
This fall, a sampling of Edina Realty's most prestigious properties for sale is showcased in the Mpls. St. Paul HOME & DESIGN Magazine.
For more information on the current state of the housing market and to see every property for sale in the area, visit http://www.EdinaRealty.com or call Edina Realty Customer Care at 952-928-5563.