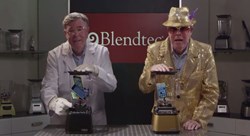 Orem, Utah (PRWEB) October 03, 2013
Will it blend? That is the question asked and answered by Blendtec founder Tom Dickson during each of his dozens of Will It Blend? videos published on YouTube.
The video released today is the 133rd in the series and features the world's strongest blender taking on the highly anticipated (and hotly sought after) iPhone 5c and gold iPhone 5s.
The video begins with Tom in his trademark white lab coat explaining that it was just too difficult to get his hands on a sold-out gold iPhone 5s. To make up for it, he explains, he acquired four colored, plastic iPhone 5c phones, which he prepares to blend all at once.
That's when his alter ego, "Gold Tom," intrudes into the scene—along with a gold iPhone 5s and a gold Blendtec Designer Series blender—and challenges regular Tom to a blend-off. Which is the better blend? See the video and decide for yourself.
The video is the most expensive Will It Blend? to date. Its views will add to the more than 227 million total views on Blendtec's Will It Blend? channel.
With the release of the new video, Blendtec is offering the chance for viewers to win a limited-edition gold Designer Series blender. For giveaway details, visit facebook.com/Blendtec.
About Blendtec
Based in Orem, Utah, Blendtec manufactures industry-leading commercial blenders and dispensers for industrial applications as well as commercial-grade blenders and appliances for home use. The award-winning Will It Blend?® Internet video series (willitblend.com) demonstrates the amazing performance of Blendtec's blender technology and has raised awareness across the globe of the Blendtec brand. Blendtec designs and builds all of its products in the USA, with at least 80% of its materials coming from domestic sources. Sold in 90 countries, Blendtec offers the total solution for anyone's blending needs, both in home and business. For more information go to blendtec.com, or call Blendtec directly at 800-748-4500.