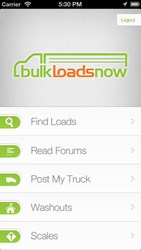 Nixa, MO (PRWEB) October 04, 2013
October 11 – 13, 2013 could be an ordinary fall weekend for carriers and shippers in the U.S., or it could be a little different, depending on if you believe the hype about a trucker strike and rally. A Facebook page (https://www.facebook.com/ridefortheconstitution) and a website (http://ridefortheconstitution.org/truckers-constitution-rally-information/) have been put up by an individual, Zeeda Andrews, in an effort to rally carriers for what's being called the "Truckers Constitution Rally." The proposed strike and rally has mostly been a viral grass-roots effort but it's getting a lot of attention from media and the industry, both positive and negative.
The topic first appeared on BulkLoadsNow.com forum in September, titled "The Shutdown," and continues to get daily responses. http://bit.ly/17sNDAX "We welcome our carrier and shipper members to discuss the pressing topics of this industry," said Jared Flinn, Operating Partner at Bulk Loads Now, "Our forum is a place where carriers and shippers can discuss, debate, help and encourage each other. We're glad to provide the place for these types of discussions."
About BulkLoadsNow.com
BulkLoadsNow.com is an online community of professionals in North American's bulk freight industry. Our shipper members are transportation logistics managers of grain, fertilizer, aggregates, feed ingredients and all agriculture commodities. Our carrier members pull hopper bottoms, walking floors, end dump trailers, belt trailers, live floors, pneumatic and liquid tankers. We provide to our members the industry's most innovative bulk freight solutions including an enhanced load board, database of all carriers in North America, instant communication tools, industry forums and news updates, and much more.