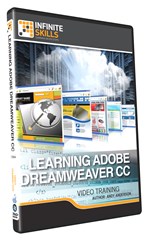 Learn to build a website using Adobe Dreamweaver CC at your own speed.
(PRWEB) October 03, 2013
Software training firm Infinite Skills Inc. this week released its "Learning Adobe Dreamweaver CC Tutorial," an introductory course focused on the essential tools and techniques for using Dreamweaver to build a website.
Dreamweaver is Adobe's web development tool with support for critical web technologies like CSS and JavaScript. The program is designed to facilitate rapid layout and design with built in coding assistance like code hints, code introspection, and real-time syntax checking, which provide users the ability to quickly create and manipulate HTML elements.
Infinite Skills' Learning Adobe Dreamweaver CC Tutorial provides a basic understanding of Dreamweaver, teaching a selection of essential and advanced concepts by accompanying users through the entire website design process.
Learning Adobe Dreamweaver CC Training Video
Course author Andy Anderson is a veteran trainer at Infinite Skills with a long list of titles focused primarily in the Adobe Creative Suite and Creative Cloud line of software. He is an accomplished photographer and designer with an extensive career history producing both commercial and artistic photo and visual design projects. Anderson has authored 17 best-selling books on graphics and design.
Anderson's extensive experience in both production and training ground the course in practice, focusing on tools and techniques that will be the most useful as users integrate Dreamweaver into a web development workflow.
The course starts, for instance, by looking at using Dreamweaver with both local and remote sites, showing how to build a local site folder that will store working files, and how to keep these files synchronized.
Anderson then explores the basics of building a site, explaining how to format, edit, and search text, along with other basics like creating an external link and using the assets panel. He then goes further into layout, looking at how to insert and manipulate images, and work with grids, guides, and rulers to design an overall layout.
Anderson then takes users through the construction phase, explaining how to plan a site and assemble raw pages from templates, and then covering how to integrate pages with navigation elements, including chapters on working with cascading style sheets and understanding behaviors and transitions in set up.
Other chapters include populating the site using tables, forms and data, and other multimedia, before closing with a chapter on going live with your website.
This is a basic course in the latest advancement of Adobe Dreamweaver," Anderson explains. "We'll build a site step-by-step, starting with foundations, gathering materials, and moving on to building and putting it all together using Dreamweaver."
Free demo videos and a full list of course contents can be found on the Learning Adobe Dreamweaver CC training page of the InfiniteSkills website:
http://www.infiniteskills.com/training/learning-adobe-dreamweaver-cc.html
InfiniteSkills offers its Learning Adobe Dreamweaver CC Tutorial either as a DVD or a direct download from the company website at a retail price of $99.95. Though the compatibility of programs varies, all InfiniteSkills titles and formats are compatible with both Mac and Windows operating systems, and shipping is available around the globe. Additionally, InfiniteSkills tutorials are supported by project files which correspond to examples in the videos.
About Infinite Skills Inc.
A leader in the field of software training, Infinite Skills designs its courses on a task-oriented model, teaching complex skills by providing hands-on examples and guiding users as they carry out essential functions. Infinite Skills offers a wide range of software titles available as DVDs, digital downloads, and in iPad editions. Infinite Skills now offers a subscription service, providing access to all its training content for a monthly fee, keeping with company's aim of delivering professional training to customers anywhere they want to learn.