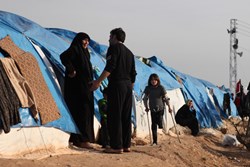 Syria's civilian population has no time to lose
Takoma Park, Maryland (PRWEB) October 02, 2013
Handicap International and a coalition of international organizations[1] welcome today's unanimous statement by the UN Security Council, which calls on all parties to the Syrian conflict to facilitate safe and unhindered humanitarian access to civilians throughout the country.
Millions of Syrians live under siege-like conditions, trapped without access to food, water, medical care, and protection from violence. Half of those affected are children who are particularly vulnerable to hunger and disease, especially as winter approaches. Those with injuries risk developing permanent disabilities, and require immediate and unfettered access to the care and support they require.
Every day, Handicap International teams respond to the intense needs of the injured, disabled and elderly, both within Syria and in neighboring countries. To meet these needs, humanitarian aid must flow in the most efficient ways possible, including across Syria's international borders and across conflict lines within the country, as stated in the Security Council communication. Humanitarian activities based in the capital of Damascus reach only a portion of the needs. For those who are still trapped in several areas inside Syria, cross-border activities often remain the only way to get support.
"With this statement, there should be no further quarrel on the legality of cross-border activities, an argument which, until today, has prevented the adequate scaling up of humanitarian support to Syrian civilians", said Elizabeth MacNairn, Executive Director of Handicap International US.
It is now time that the UN Security Council show its resolve by immediately translating its words into action. The Syrian people have suffered for far too long, waiting not only for the delivery of substantial aid but also the coordinated expression of international indignation and outrage at the suffering they have experienced. The success will be measured solely by tangible improvements for Syria's civilian population and for those who are seeking refuge in neighboring countries.
Together with cross border and cross conflict lines activities, reliance on Syrian civil society organizations and self-help groups is key for an effective and efficient assistance, and for the consistency of response to humanitarian needs in Syria in a mid to long term. With that in mind, Handicap International urges the international community and donors to refrain from delaying aid due to the socio-political context.
Concrete results must come quickly. Syria's civilian population has no time to lose. Security Council members must now monitor progress to ensure full implementation of the statement of demands.
About Handicap International
Co-winner of the 1997 Nobel Peace Prize, Handicap International is an independent international aid organization. It has been working in situations of poverty and exclusion, conflict and disaster for 30 years. Working alongside persons with disabilities and other vulnerable groups, our actions and testimony focus on responding to their essential needs, improving their living conditions, and promoting respect for their dignity and basic rights. Since 1982, Handicap International has set up development programs in more than 60 countries and intervenes in numerous emergency situations. The network of eight national associations (Belgium, Canada, France, Germany, Luxembourg, Switzerland, the United Kingdom and the United States) works constantly to mobilize resources, jointly manage projects and to increase the impact of the organization's principles and actions. Handicap International is one of six founding organizations of the International Campaign to Ban Landmines, and winner of the 2011 Hilton Humanitarian Prize. Handicap International takes action and campaigns in places where "standing tall" is no easy task.
[1] ACTED – CAFOD - Christian Aid – Doctors of the World USA – Doctors of the World UK – Handicap International – International Rescue Committee (IRC) – Islamic Relief Worldwide – Médecins du Monde France (MDM) – Norwegian Refugee Council (NRC) – People in Need (PIN) – Refugees International – Save the Children – Tearfund – War Child UK – World Vision International