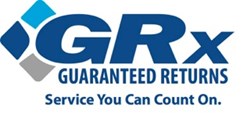 Alex Nestasia, GRx National Account Manager for MedAssets, says today, every hospital pharmacy has been asked to find opportunities for reducing costs...we recognize that our customers' needs go beyond just simple removal of expired medications...
Holbrook, New York (PRWEB) October 11, 2013
Guaranteed Returns® is proud to announce the renewal of their Pharmaceutical Returns contract with MedAssets Supply Chain Systems, LLC.
Guaranteed Returns® has been serving MedAssets members for over 10 years and is thrilled to continue their partnership with MedAssets.
The contract represents an opportunity for MedAssets members to increase inventory turns, reduce holding costs and return capital back to the pharmacy's budget. This, matched with specially contracted member only rates, will help participants realize savings and alleviate the potentially huge financial burden that wasted inventory assets can cause.
Please contact Alex Nestasia at 1.800.473.2138, extension 163 for more information.
About Guaranteed Returns®
For over 25 years, Guaranteed Returns® has provided pharmaceutical return services to hospital, government, independent retail, chain-store, LTC, Mail-Order and clinic pharmacies.
Contact Guaranteed Returns® at 1-800-473-2138, on LinkedIn or at guaranteedreturns.com.