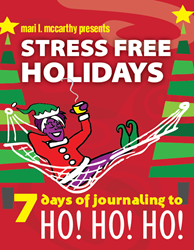 The Stress-Free Holidays 7 Day Journaling Challenge presents an opportunity to work through a series of daily exercises that are focused on creating a stress free holiday season.
Boston, Massachusetts (PRWEB) October 03, 2013
CreateWriteNow hosts a new 7-day Journaling Challenge beginning October 7. The Challenge presents an opportunity to work through a series of daily exercises, focused on creating a stress-free holiday season.
No doubt about it, the holiday season is increasingly stressful. It's a challenge to meet all the expectations of tradition and family even in the best of times; and in our current economy, with everyone's budgets slimmer than ever, personal stress has been mounting.
In addition to financial concerns, there are multiple causes for stress at the holidays. Family issues, social pressures, personal resolve and discipline, spiritual imperatives: the list goes on.
CreateWriteNow wants to show exactly how a far more peaceful enjoyment of the holidays is within anyone's reach. Their suggested method involves journal writing, and is laid out step by step in the e-workbook, Stress Free Holidays: 7 Days of Journaling to Ho! Ho! Ho!
While the process is self-guided, and individuals can follow it according to their own schedules, CreateWriteNow also offers the week-long Group Challenge. Running October 7th through the 13th, the Challenge includes membership in a Facebook private discussion group, and additional materials provided by CreateWriteNow founder Mari L. McCarthy.
The Stress-Free Holidays process includes ways of working with a variety of holiday dilemmas, offering journal writing exercises for each day that help the participant work through stresses. Many causes of stress are considered, from self-expectations to family and financial pressures, from sad memories of loved ones gone to seasonal affective disorder and more.
The journaling prompts and exercises are designed to guide a process that can lead to a powerful new appreciation for this annually joyful/stressful time.
Devoting about an hour a day for a week, the participant will address the triggers that cause personal unhappiness and overwhelm. The process yields a celebration of personal gifts and ways to use them to turn stress into happiness.
CreateWriteNow publishes a website (http://CreateWriteNow.com), which is devoted to journaling, as well as a series of e-workbooks showing how to apply journal writing to a large variety of life's challenges. Topics have included ways in which journaling can be used in self-discovery, job searches, getting organized, overcoming writer's block, and a host of health and wellness issues. Personal Journaling Specialist Mari L. McCarthy is also available for journaling coaching and consultations.
CreateWriteNow's Personal Journal Blog provides articles about starting and sticking to a daily pen to page journaling practice, and how journaling helps access inner intelligence and transform life.