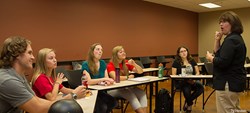 Lynchburg, VA (PRWEB) October 02, 2013
This semester, Liberty University became the first school in Virginia to offer a Bachelor of Arts in American Sign Language & Interpreting (ASLI). There are only 39 other schools across the country offering the degree.
The new program equips students with both the technical skills and educational credentials required to complete the National Interpreter Certification exam (administered by the Registry of interpreters for the Deaf) and become professional sign language interpreters.
The need for interpreters has skyrocketed since the Americans with Disability Act mandated accessibility for deaf individuals.
Nicole Thorn, assistant professor, said there is a national shortage of interpreters.
"Liberty is stepping up and recognizing and meeting a need," she said. "Interpreters are needed in a wide variety of fields, including the workplace, corporations, medical facilities, and education. Pretty much, any field now needs an interpreter."
The major also explores issues pertaining to deaf culture and focuses on developing interpreting skills to facilitate effective communication.
"American Sign Language is the heart language of thousands of deaf Americans, just as English is the heart language for the majority of Americans," Thorn said. "Interpreters are in the privileged position to become an instrument of communication access."
Rose Courson, a sophomore ASLI major, has been involved in deaf ministry since childhood. Both of her parents are missionary interpreters and her father is a pastor to the deaf.
"This program is necessary because there is a high need for skilled interpreters in the world who are taught from professors who utilize a Christian perspective," she said.
Hannah Silver, a junior ASLI major, developed a passion to serve the deaf when she attended Living Word Deaf Church near Lynchburg, Va.
"This major has helped me worship God in a different way and has taught me how to assist the deaf," she said. "All of my professors have been helpful in showing their passions for what they do and emphasizing the amount of practice needed in order to be successful."
Students will have the opportunity to fulfill practicum hours and internships with Liberty's Office of Disability Academic Support, the Washington Fellowship, or at other various locations nationwide.
"I want more than just a profession for our graduates," Thorn said. "It is my hope and prayer that students complete this major with an in-depth understanding of the value of each unique individual and the importance of language."
The American Sign Language & Interpreting degree is one of several new academic programs being offered for the first time at Liberty University. Read more in the Fall 2013 Liberty Journal.
About Liberty University
Liberty University, founded in 1971, is the largest private, nonprofit university in the nation, the largest university in Virginia, and the largest Christian university in the world. More than 100,000 students attend classes on its 7,000-acre residential campus and study in its thriving online education program.