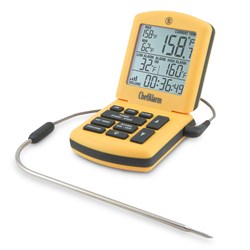 Lindon, UT (PRWEB) October 08, 2013
Designed for commercial use, ChefAlarm delivers features not found in "houseware" cooking alarms including continuous Min/Max display that tells chefs how hot (or cold) their food got when they weren't looking. ChefAlarm's high alarm sounds when food reaches the pre-determined setting, and a first-of-its-kind low alarm is perfect for making yogurt and other cold dishes.
Direct from the factory, ChefAlarm reads within ±1.8°F so users should never need a calibration adjustment; however, the "CAL" feature can be used for fine-tuning accuracy to better than ±1°F; perfect for cooking sugars.
ChefAlarm's adjustable alarm volume (92dB) can be heard in the noisiest restaurant kitchen, or in virtually any room in the house. The main temperature digits are big and easy-to-see from a distance. Plus, the one-touch backlight button allows users to read the display in low-light conditions.
ChefAlarm comes with one Pro-Series™ High Temp Cooking Probe that measures to 572°F with a cable that withstands short-term exposure to 700°F. The new Pro-Series Temperature Probes are designed exclusively for ChefAlarm and are built for robust commercial use. They are faster, more accurate, and resist moisture better than any other alarm probes.
An optional Pro-Series™ Mini-Needle Probe is a true innovation and is suitable for thin or tiny portions, as well as Sous-Vide cooking where the probe and cable are immersed. The Mini-Needle Probe measures to 572°F with a cable that withstands short-term exposure to 500°F. It reads in only 4 seconds so it's great for spot checks too.
Hi-Res Images:
ChefAlarm w/ High-Temp Probe: http://bit.ly/1dpwTfi
Chef-Alarm w/ Needle Probe: http://bit.ly/1gzsA0F
ChefAlarm in 9 colors: http://bit.ly/19enjc4
ChefAlarm in 9 colors: http://bit.ly/14juj7K
Background:
ThermoWorks, Inc. is a leader in professional, unique temperature tools. Located in Utah, their experienced staff operate an in-house NIST-Traceable calibration lab and a fully-equipped service department. Technical sales consultants and tech-support reps are on hand to provide individualized service and solutions to thermometer needs in industry, science, foods and even serious home kitchens.