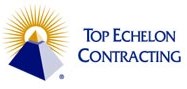 We make it easy for firms to establish or expand their contract staffing services.
Orlando, FL (PRWEB) October 03, 2013
Top Echelon Contracting (TEC), a full-service contract staffing back-office service provider, will be a first-time exhibitor the Staffing World convention to be held from October 8-10 at the Marriott World Center Resort and Convention Center in Orlando, Fla.
Established in 1992, TEC helps recruiters make contract placements by becoming the employer of record for their contractors and handling all the financial, administrative, and legal details of their contract placements. Those details include legal contracts with the client and contractor, background checks, timesheet collection, payroll funding and processing, invoicing and collections, I-9 and E-Verify, Workers' Compensation, unemployment, contractor benefits, employment paperwork, and more.
TEC will be among 139 leading recruiting industry suppliers in the Expo Hall, where attendees will be able to learn about new services, technologies, and innovative products to help them maintain their competitive edge. Those who visit TEC's booth will have the opportunity to guess how much money is in a jar displayed there. The attendee who comes closest to guessing the amount without going over will win the money.
TEC Contract Staffing Administrator Jen Grimes and President Debbie Fledderjohann will be on hand to explain how the company can help recruiting and staffing firms expand into new states and disciplines. TEC focuses on professional, technical, and healthcare placements nationwide.
"We make it easy for firms to establish or expand their contract staffing services," Fledderjohann said. "We have grown our business over the past few years to include more of the engineering and manufacturing and healthcare disciplines, so we can help firms move beyond 8810 office professional Workers' Compensation classification."
Hosted by the American Staffing Association, Staffing World is the largest convention and expo in the recruiting industry. The event attracts thousands of staffing executives, professionals, leaders, and innovators each year by providing premier executive education, top-tier networking opportunities, and the largest expo in the recruiting industry. This year's convention features top-notch keynote speakers Erik Wahl, Patrick Lencioni, and Scott Klososky.
Registration for Staffing World is still open at https://americanstaffing.net/events/staffingworld13/registrationSW/index.cfm?.