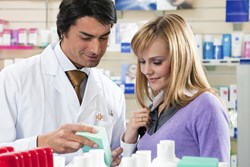 Burbank, CA (PRWEB) October 03, 2013
USA Business Insurance is announcing that pharmacy and drug store owners in the state of California have the opportunity to purchase General Liability Insurance and Professional Liability Insurance that meets the needs of their specific industry. General liability insurance offers protection for store owners in cases where customers fall or injure themselves on the business premises. This could include slipping on the sidewalk, outside the doors or slipping on wet tile while entering the store. This coverage will pay for legal and medical expenses for the injured party.
In the general liability insurance, the product offers a new coverage clause that has been amended to include coverage for the pharmacy or drug store even after a prescription or over-the-counter product has been purchased and used on a regular basis. Occasionally manufacturers recall products because there has been a production problem with a certain batch of pills. Customers could take these pills prior to the recall and have an adverse reaction. General liability will cover the establishment even when inventory has been purchased from a third party.
Many drug stores and pharmacies depend on weekly advertising to drive more traffic into the business during the week. Some have specific newspaper inserts while others may depend on direct mail to homes. General liability insurance can cover the store in case there are errors in advertising where someone claims they have used copyrighted photos or words without prior permission.
Repeat customers generally rely on their pharmacists to answer questions and suggest correct over-the-counter medication to take or use for minor illnesses and injuries. Many of these loyal patrons will trust their neighborhood pharmacist before calling their family doctors. Pharmacists are only human, and every human makes mistakes. If the professional suggests a medication that causes an allergic reaction or other malady, professional liability insurance will cover these legal fees and medical expenses for the customer. It will even pay for the investigative and legal fees when the pharmacist is found not to be at fault.
To learn how General Liability Insurance and Professional Liability insurance can benefit California pharmacies and drug stores visit http://businessinsuranceusa.com/business-insurance-pharmacy.
About USA Business Insurance: USA Business Insurance writes general liability insurance and professional liability insurance for a diverse group of corporate niches in the state of California as well as many other states across the country.