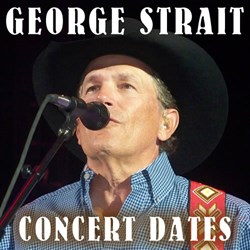 These concert dates with George Strait represent some of the last chances to see this legend, don't miss this opportunity and enjoy a show!
Denver, CO (PRWEB) October 04, 2013
The George Strait tour dates coming up look to further etch George Strait, already known as the King Of Country, into the record books. Shows for The Cowboy Rides Away Tour began earlier in 2013 and run through a 2014 schedule ending in Arlington, Texas this spring. The George Strait Staples Center concert date in Los Angeles sold out in only 9 minutes, so tickets from the box office may be tough to buy. Luckily, at GeorgeStraitConcertDates.com a large inventory of concert tickets remain available including premium seats and floor tickets. George Strait announced in 2012 that this "Cowboy Rides Away Tour" would stand as his last concert tour. Even when the concert dates get close, the ETicket option allows you to buy last minute George Strait tickets and print them right from a computer.
Along with his original band, Ace In The Hole, who have played with George since 1975, some George Strait concert dates will feature special guest performers. For the tour dates going on sale today special attention goes to the Omaha concert where Eric Church joins George, Auburn Hills MI near Detroit when Little Big Town takes part, Miranda Lambert joins the George Strait San Diego concert and Sheryl Crow takes the stage at the George Strait Atlanta show.
Over his storied career George Strait brought 57 records to number one on the charts, more than any other performer including Elvis Presley. In total 69 million George Strait records have sold with 33 different albums going platinum or multi-platinum. Even as a current artist, George Strait already entered the Country Music Hall Of Fame in 2006. Songs by George Strait people may be most familiar with include I Cross My Heart, Check Yes Or No, All My Ex's Live In Texas, I Saw God Today, You Look So Good In Love and Give It Away. While the songs one may hear at a George Strait concert may vary based on the night and his guest star, we assembled a projected Cowboy Rides Away Tour Set List based on songs played during the first stage of the tour.
Below find all of the concerts dates going on sale today:
Omaha - January 17, 2014 With Eric Church
San Diego - January 31, 2014 With Miranda Lambert
Phoenix - February 7, 2014
Auburn Hills - February 14, 2014 With Little Big Town
Columbus - February 15, 2014
Atlanta - March 22, 2014 With Sheryl Crow
Denver - April 5, 2014
Des Moines - April 18, 2014
Visit GeorgeStraitConcertDates.com for the complete George Stait tour schedule.
In addition to the George Strait Pepsi Center concert in Denver look for shows including the Michael Buble Denver performance and Eagles Pepsi Center tour date. When not in a concert mode, the Denver Pepsi center plays host for the home games of both the Colorado Avalanche NHL squad and the Denver Nuggets NBA team.
The GeorgeStraitConcertDates.com site, in conjunction with Tickets-Cheapest.com, operates in the ticket resale market, similar to sites like Stubhub, which concert fans may be familiar with. Only these sites offer ticket prices cheaper than Stubhub and other such pages. Often Tickets-Cheapest.com sells the exact same seats as other resale sites, and in an exact seat price comparison, Tickets-Cheapest.com proved its rights to the name by beating 25 out of 25 competitors for low-priced tickets. Give George Strait Concert Dates and Financial Firebird's Cheap Tickets sites a try for great prices to see great country music concerts and other performances. George Strait tickets for several cities go on sale for the public to buy today, but fans can purchase some George Strait tickets early at GeorgeStraitConcertDates.com and Tickets-Cheapest.com for all tour dates in all cities to get their seats reserved in advance.
No artist may ever come close to the success experienced by George Strait in the country music industry. With so many cities on the Cowboy Rides Away Tour, a show near home seems likely. If it turn out no close concert exists, think about finding a hotel deal, make a trip of it and attend a performance anyway. These concert dates with George Strait represent some of the last chances to see this legend, don't miss this opportunity and enjoy a show!
About Us:
Financial Firebird Corporation, established in 2000 and a proud BBB member, provides unbiased consumer information particularly involving personal unsecured debt or mortgages, software and marketing services. These sites for consumers to buy tickets online operate in the resale market and maintain no relationship with the venues or performers. The resale ticket market allows consumers access to popular events including sports, concerts, and Broadway theater tickets once the box office has sold out. Consumers may also buy premium seats when the venue no longer offers any inventory. Within the group of these secondary market ticket services the Financial Firebird owned ticket sites offer lower prices than competitors. Find the site at Tickets-Cheapest.com.