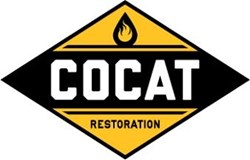 Denver, CO (PRWEB) October 03, 2013
COCAT Restoration has been at the forefront of restoration efforts after unprecedented flooding devastated thousands of homes along Colorado's Front Range last month. With all the water damage Denver and surrounding areas have experienced, COCAT has been working around the clock in order to assist as many businesses and residents as possible.
The COCAT team has restored more than 10,000 properties since 1996, including residential, multi-family, retail, commercial and industrial properties throughout the state. COCAT Restoration provides 24-hour emergency cleanup services for water and smoke damage, in addition to asbestos abatement and other disasters.
Over the past few weeks COCAT has restored multiple properties, including Boulder Community Hospital and other Boulder facilities, after a deluge of rain fell across the state. The unprecedented disaster killed eight people, displaced thousands of individuals, and impacting almost 2,000 square miles across 18 cities and 17 state counties.
According to the most recent numbers from the Colorado Office of Emergency Management, 16,101 homes and 765 commercial properties have been damaged. Hundreds more, including industrial properties, have been completely destroyed.
As a respected Denver water damage company, COCAT is lending their water damage restoration services in Denver, Colorado Springs, Boulder, Greeley and surrounding areas. The team has been worked around the clock to help businesses recover and get people back on their feet.
COCAT's CEO stated "Seeing much of the destruction first hand, we empathize with our neighbors' losses. I'm proud of the immediate and continued response of the COCAT team, who've worked tirelessly to help restore both the properties and lives of the residents."
Homes and buildings damaged by flooding face a slew of health and safety issues for their occupants if they are not quickly and properly restored. Flood water can contain high levels of contamination and sewage, in addition to other hazardous materials.
Standing water, moisture and humidity in houses and buildings are breeding grounds for diseases, microorganisms, mold, and dust mites, and can result in allergic reactions or serious long- term health risks. Flooding can also disrupt materials inside properties that contain asbestos or lead.
COCAT's Denver water damage experts are trained to extract water, and are equipped address concerns resulting from flooding. Quick and effective drying procedures inhibit growth of mold, mildew bacteria and other harmful pathogens.
Contact COCAT for more information by visiting cocat.com or calling 303-565-3800 or 719-527-4380.
Considered one of the top restoration companies Denver has to offer, COCAT Restoration specializes in fire and smoke damage, water and flood damage, asbestos abatement, mold mitigation, meth lab/grow house and environmental cleanup and content restoration. They also offer general contracting services, project consulting, free estimates and a 90-minute or less response time for all emergency calls.