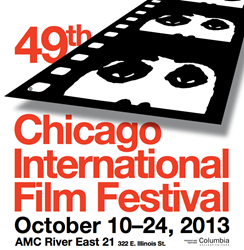 From racism and incest to suicide and murder.
Chicago, IL (PRWEB) October 03, 2013
The lives of several couples intertwine through a complex web of love and infidelity in this intimate exploration of race and contemporary relationships. At the center of this romantic network is blogger Dark Mark, whose profile as a writer is growing as his penetrating essays on race relations earn him a regular magazine column and a book contract. When he leaves his girlfriend Vanessa for his white editor, a twisted, tragic fate awaits him and those he loves.
Sable Fable will premiere at the 49th Chicago International Film Festival on the 18th October 2013 at the AMC Theatre. There will also be a further two screenings as part of the World Cinema and Black Perspective section and a Q&A with director Stephen Lloyd Jackson and lead actor James Williams .
The Chicago International Film Festival is the longest-running competitive film festival in North America. The Festival was started in 1964 by filmmaker and graphic artist Michael Kutza to provide an alternative to the commercial Hollywood movies that dominated the city's theaters. The Festival opened in 1965 at the Carnegie Theater, where King Vidor, Bette Davis, and Stanley Kramer were honored for their contributions to American cinema. Since then, the Festival has grown to become a world-renowned annual event. The Festival is dedicated to fostering better understanding between cultures and to making a positive contribution to the art form of the moving image.
For more details, visit the 49th Chicago International Film Festival's website: http://www.chicagofilmfestival.com/films_and_schedule/movie.php?show=sable_fable