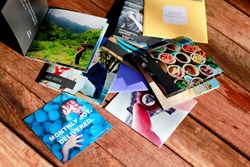 Just wait until you get the 'Thank you' call – it's an incredible feeling. There is no better way to spend $5.
Palo Alto, CA (PRWEB) October 07, 2013
Kindred Prints, a mobile software company, has today announced a partnership with the leading Bay Area customized printing shop to offer a new app for iPhone, iPod touch and Android, that allows people to make a simple yet beautiful, unique, soft cover photo book with the click of a button. The Kindred Photo Books App sends reminders every so often to help the user remember that it's time to update their loved ones with a photo booklet of a recent event or summary of the previous month.
"A recent survey showed that more than half of all photo books started are abandoned, with the major complaint of taking too long to assemble photos and customize the many options. People are under the impression that these $30-40 photo books are a huge time investment to be left for special holidays once a year," said Alex Austin, CEO of Kindred Prints. "The Kindred app solves this problem by quickly assembling all your photos from Facebook, Instagram and your phone. Now what took hours before can be done with the click of a button. And, if you join our club, your booklets are only $5 each."
The app can automatically select the best photos to be used in the book. A proprietary algorithm analyzes likes and comments on the photos that the user has been tagged in, or has posted themselves, on both Facebook and Instagram, then selects the top photos to be made into a photo book. The app and accompanying photo books are intended to be simple and low priced enough to be used to summarize events such as a weekend trip or evening get-together.
"We realize what a joy it is to receive a hard copy of photos from a recent event that can be left on the coffee table. We want people to feel that way once or twice a month rather than every year. Just wait until you get the 'Thank you' call – it's an incredible feeling. There is no better way to spend $5," added Alex.
The Kindred Photo Books App is available for free from the App Store on iPhone and iPod touch or at http://www.AppStore.com/KindredPhotoBooks.
About Kindred Prints (http://www.kindredprints.com)
Kindred Prints was founded by three Stanford students – Alex Austin, Mike Molinet, and Mada Seghete - in their dorm rooms as a way to easily share printed photos with loved ones more often. Before Kindred, they would send impersonal emails with attached photos to friends, parents and grandparents to keep them updated on various events in their lives. They formed around the idea of building software to facilitate simple and frequent sharing of life's moments in personalized, printed format for the price of a latte.