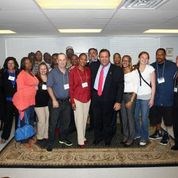 Paterson, NJ (PRWEB) October 03, 2013
On September 18, 2013, Eva's Village, Paterson, New Jersey, hosted Governor Chris Christie and CBS Morning News. Governor Christie chose Eva's Village as the location for an interview by Tracy Smith, a correspondent for "CBS News Sunday Morning." The interview aired on Sunday, September 29, 2013.
Governor Christie has been an advocate of alcohol and drug treatment and signed into law an expansion of the Drug Court program in 2010. Eva's Village, which has been providing residential and outpatient drug and alcohol treatment services for more than 27 year has been a Drug Court treatment provider since its inception. Following the interview with Tracy Smith, Governor Christie sat down for an informal chat with 16 past and present recovery clients of Eva's Village. "It was a good experience to see that the Governor was here in Paterson, and really concerned about the recovery community," state Tuffy, past Eva's Village client and volunteer at the Recovery Center at Eva's Village.
Eva's Village is a non-profit comprehensive social service organization with a mission to feed the hungry, shelter the homeless, treat the addicted and provide medical and dental care to the poor with respect for the human dignity of each individual.
For more information about Eva's Village treatment and recovery support services, call the Access Center at Eva's Village (973)-523-6220.