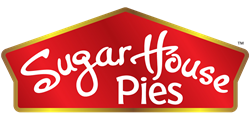 This tasty new pie flavor vies for spot as 'most patriotic' dessert.
Salt Lake City, Utah (PRWEB) October 03, 2013
There has never been anything more American than apple pie, but that may be about to change. Sugarhouse suppliers for fruit pies have just released the patriotic new edition to their line of frozen desserts: the Red, White, and Blue Lattice. This new flavor boasts a unique combination of apple, peach and blackberry, and features the hand-laid lattice-style crust that the bakery has become famous for. Sugarhouse aims to make this new flavor easily accessible for celebrators of all baking experience levels this summer, while keeping true to their tradition of pastries that taste like grandma used to make. Sugarhouse executives want to simplify their customers' lives by making quality desserts easy to buy and
Years of experience have helped the pie manufacturers master the art of making flaky crusts that melt in the mouth, and that expertise can be tasted in every bite. Customers return time and time again for the frozen desserts they have come to love, and the dedication they have come to expect. In addition to high quality crusts, Sugarhouse suppliers for fruit pies claim the utmost care in selecting only the freshest ingredients and produce for their pastries, and are duly selective in the farms they choose to work with. Only the tastiest fruits are selected at the high of ripeness to insure optimum flavor and enjoyment in every bite.
The professional baking team at Sugarhouse is committed to keeping things interesting in the pastry world. Every year, the technicians churn out new and interesting flavors that keep their hungry clientele guessing. The creative and exciting new combination of apple, peach and blackberry flavors is yet another shining example of how the Sugarhouse suppliers for fruit pies push the horizons while staying true to their commitment to quality products. Over their years of experience as pie manufacturers, Sugarhouse has released dozens of original custom flavors that have become instant hits with their customers. Both the Cherry/Apple and Sea Salt Caramel French Silk were received with rave reviews, and became new classics in many of their customers' homes. Their frozen desserts are carefully crafted in a way to achieve the highest quality while still maintaining the ease and convenience of store-bought pastries. A Sugarhouse representative stated that "customers are excited to try the new flavors we release, because they know they can expect the highest quality in everything we produce."
Because their pastries are easily purchased and prepared, Sugarhouse wants their customers to know that the pastries are suitable for any occasion. Even hot family picnics in the middle of July can be conveniently topped off with a fresh treat from Sugarhouse bakers. Many of the tasty pastries simply require baking at home before they are ready to serve. Sugarhouse also features a line of desserts that only need to be thawed before eating.
To read more about the other seasonal lines available from Sugarhouse bakers, visit their website at: http://www.sugarhousepies.com.