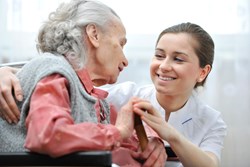 In spite of the population differences between the generations, it's a difficult time to be a caregiver.
Brooklyn, NY (PRWEB) October 08, 2013
It's an issue that we've known was coming for decades, but is finally coming into fruition: baby boomers are entering old age, and the next generation isn't quite populous enough to ensure there will be enough caregivers to care for their elderly. By 2030, there will only be four potential caregivers for every patient – which means that a lot of people can expect to take on their new roles as caregivers within the next few decades. It's an issue that medical supply companies, such as Save Rite Medical, are all-too aware of, which is why representative Marc Kaplan wants to offer his view to prepare soon-to-be caregivers.
"In spite of the population differences between the generations, it's a difficult time to be a caregiver," Kaplan says. "Things are getting expensive. People are working more. It's tough to balance what is essentially two full-time jobs, buy medical supplies, and make time for yourself."
The most important thing a person can do, Kaplan says, is research. It's important to never stop utilizing your resources to find out what it takes to handle this person's specific conditions, what specific supplies are necessary, and where to get everything you need. "You can buy medical supplies online from wholesalers and have them delivered to your house," Kaplan adds. "It'll save you time and money – two things that will become invaluable."
In the same vein, he wants to remind future caregivers to never stop caring for themselves. This means mentally and physically. Be aware and realistic about the condition of the person you're caring for and learn good coping strategies. Don't be afraid to get professional help when it's needed. Furthermore, never stop exercising, going out, or spending time with other family members and friends, as it will only eventually affect the situation negatively.
Finally, look for specific non-profit organizations related to your patient's specific ailment. These organizations are always willing to help, both financially and educationally, the patients and their families suffering from that ailment.
Save Rite Medical is a medical supply company based out of Brooklyn, New York. They aim to provide customers with the advantage of a superior selection of medical supplies at competitive prices.