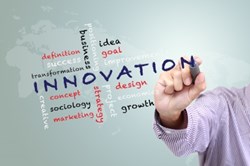 Six months ago we wouldn't have seen the merger between Spigit and Mindjet.
California, USA (PRWEB) October 04, 2013
Disruption is now a fact of life in today's fast moving world. What's world-leading last month is now out of date. Without constant investment and foresight, the next big thing becomes next week's flop.
HunchBuzz is conducting a world's first by benchmarking innovation management software tools. Steven Morey, Director, says, "Six months ago we wouldn't have seen the merger between Spigit and Mindjet; it's happened, and now we have another major player."
Innovation is about moving forward, and with the changing global landscape, HunchBuzz aims to create a picture of what users and consultants of innovation software consider the best platform of today. "It's hard to believe that there has never been a benchmark of innovation management," Morey says.
Morey began researching innovation management software early 2011 but found that the choices out there were too vast, it would take years to experience each platform and interview all the users and by then, the data would be out of date. So far, over 100 innovation consultants from fortune 500 to global 2,000 organisations have been queried about their favourite innovation tools.
Platforms aren't the be-all and end-all of innovation; the choice of methodology behind innovation management is vital to any successful innovation campaign. Methodologies vary from organisation and country. A global search for methodology is phase two, but for now HunchBuzz' main focus is on the software tools.
Phase one starts with the most preferred platform and will look at usability, scalability and deployability.
If you have experience with managing innovation and have used software tools like: Innocentive, Spigit, Ideascale, Ideaglow, Brightidea, Qmarkets & Ideaconnection, visit HunchBuzz innovation management software tools.