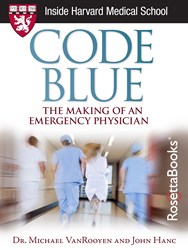 "This book will inspire teachers and students alike. It's a terrific read for anyone interested in healthcare." - Dr. Julie Silver, Chief Editor of Books for Harvard Health Publications
New York, NY October 3, 2013 (PRWEB) October 03, 2013
Emergency physicians must make order out of chaos, and thrive in the fast paced environment of the ER. In CodeBlue: The Making of an Emergency Physician, Dr. Michael VanRooyen and co-author JohnHanc show readers what it takes to excel in the high-stakes setting of a busy Boston emergency department.
"This book will inspire teachers and students alike. It's a terrific read for anyone interested in healthcare," said Dr. Julie Silver, Chief Editor of Books for Harvard Health Publications.
"Each Harvard Health Publications original eBook is an important contribution to its field," said Arthur Klebanoff, CEO of leading independent digital publisher RosettaBooks.
Dr. Michael VanRooyen is a professor at Harvard Medical School and the Harvard School of Public Health. He is the founder of the Humanitarian Academy at Harvard, an educational program advancing humanitarian professionalism in the field of medicine. Dr. VanRooyen has served as an emergency physician in over thirty countries, including Rwanda, North Korea, Iraq, Darfur-Sudan, Somalia, Bosnia, and the Democratic Republic of Congo.
John Hanc is the author of eleven books and is a frequent contributor to many publications including Newsday, The New York Times, and Smithsonian. He is also a professor of journalism and communications at the New York Institute of Technology.
Harvard Medical School was founded in 1782 and encompasses 18 affiliated hospitals with more than 11,000 faculty physicians. Harvard Health Publications is the media and publishing division of the Harvard Medical School. The goal of its publications is to bring people around the world the most current health information that is authoritative, trustworthy, and accessible.
This title is part of a series of Harvard Medical School Guides that are short, practical original works, organized by Harvard Health Publications and drawing on the resources of Harvard Medical School.
About RosettaBooks: RosettaBooks is the leading independent digital publisher. Its prominent author collections include 52 works of Winston Churchill, 35 titles by renowned science fiction author Arthur C. Clarke, 20 works by Kurt Vonnegut, 12 titles from international bestselling business author Stephen R. Covey and 18 works by Robert Graves, celebrated 20th century English poet, critic, and author of I, Claudius and Claudius, the God. RosettaBooks also publishes eBook lines in collaboration with AARP, Harvard Health Publications and Mayo Clinic. Publisher of ten Kindle Singles, including Ray Bradbury's The Playground, RosettaBooks has launched nine of them to bestseller status. RosettaBooks is an Inc. 500 company, on the exclusive list of the nation's fastest growing private companies. For more information, please visit RosettaBooks.com and follow the e-publisher on Facebook and Twitter.