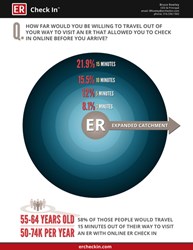 26% were Likely or Very Likely to prefer ER facilities with online pre-registration solutions.
Wichita, Kansas (PRWEB) October 03, 2013
New research reveals that U.S. consumers have quickly accepted and prefer advance online ER registration using their computer or smartphone. A survey conducted in September with over 2,000 respondents revealed that 26% were Likely or Very Likely to prefer ER facilities with online pre-registration solutions. This preference was particularly strong among patients aged 25-34 whose preference was more than 40%.
ER Check In, a provider of an online emergency department and urgent care registration application, conducted the research to understand consumer acceptance and preference.
"Consumers have gotten comfortable with online advance registration for airlines, hotels, pizza and even haircuts," said Bruce Rowley, CEO of ER Check In. "Advance online ER registration feels like a natural extension that makes a lot of sense to consumers."
The study also probed for respondents' willingness to travel farther out of their way to visit an ER with advance online registration. Again, the results revealed significant consumer preference with 55% of respondents willing to travel farther. Of particular note: 32% of consumers aged 55-64 with incomes of $50-$74,000 were willing to travel 15 minutes farther to visit an ER that offered advance online registration.
Expanded highlights and findings from the research are available by contacting ER Check In directly.
ER Check In's online advance registration application provides hospitals with a complete suite of products that includes custom branded smartphone app, custom website and integration into existing hospital websites and mobile apps. ER Check In was designed to create a superior patient-user experience by streamlining the user interface and embracing the mobile user with multiple means of access and available integration with ER wait times, where available. ER Check In is also designed to integrate into existing ER workflow, making it a hit with ER staff.
The ER Check In product suite was launched in 2012 and is licensed to hospital Emergency Departments and Urgent Care Centers as a customer-branded solution.
Learn more at http://www.ERCheckIn.com.