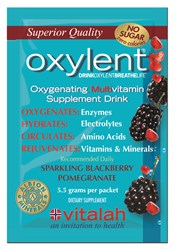 Stuart Hutchinson brings extensive experience and an impressive track record of driving growth and makes a tremendous addition to the Vitalah team.
Santa Cruz County, CA (PRWEB) October 03, 2013
Vitalah, creators of Oxylent, is proud to announce the appointment of Stuart Hutchinson as the company's new Vice President of Sales. Starting on September 23, Stuart will be managing the Oxylent sales efforts and brand management strategy. With over 18 years in the natural products industry, Stuart brings a wealth of knowledge; he has owned a manufacturing facility, launched a brand, performed as a regional manager, and served as a national sales manager. For the last seven years, Stuart held the position of Vice President of Sales at Barleans. He can be reached at stuart(at)oxylent(dot)com.
According to Lisa Lent, Founder and CEO of Vitalah, "We are excited to welcome Stuart to our team in his new role as Vice President of Sales. He brings extensive experience and an impressive track record of driving growth and makes a tremendous addition to our team. I look forward to working together to implement new strategies to further expand our growth."
"I'm very pleased to join this innovative company," announced Stuart. "Vitalah is an exciting company quickly establishing itself as a category leader and innovator, and I can't wait to lead the strategy and execution to take Oxylent to new heights."
Oxylent has taken the multivitamin category by storm with its award-winning 5-in-1 formula that delivers vitamins, minerals, antioxidants, amino acids and electrolytes in one refreshing drink. Without the use of sugar, gluten, artificial additives, preservatives, dairy, caffeine, binders, or anti-caking agents, Oxylent is known in the market for using only the highest quality ingredients. Oxylent is the only effervescent multivitamin to be awarded Albion's Gold Medallion, recognizing excellence in mineral formulation. The product contains no sugar and is sweetened with all-natural Stevia, a plant-based sweetener that provides the sweetness of sugar without the calories or increase in blood sugar levels. Plus, Oxylent is 100% free of gluten, dairy, soy, GMOs and caffeine.
Vitalah was founded by Lisa Lent as an "invitation to health" born from her passion to create a healthy travel experience and the ultimate supplement for everyday life. Her product, Oxylent, is an effervescent multivitamin containing a unique blend of high-quality vitamins and essential nutrients that create a synergistic environment, enabling the body to function at peak levels. Oxylent is available at health food stores nationwide and online. Purchasing Oxylent supports Vitamin Angels®—a global organization that provides under-nourished children with nutritional supplements. Visit http://www.oxylent.com, or call 877.OXYLENT (877.699.5368). Find Oxylent on Facebook at http://www.facebook.com/oxylent and on Twitter at @oxylent.
###