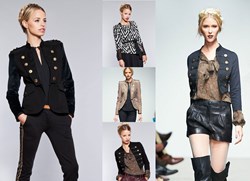 Nikki Lund said: 'This retailer has taken care to make sure they are bringing the very best brands to their loyal customers and we are honored to be among them.'
Yorktown Shopping Center, Lombard, IL (PRWEB) October 03, 2013
What:
Aiming to provide an exciting, unique opportunity for local shoppers, Von Maur will feature guest appearances by Nikki Lund and Richie Sambora – co-designers of contemporary fashion brand Nikki Rich – at its Yorktown Center store this Saturday, October 12.
A California native, Los Angeles-based fashion designer Nikki Lund has been widely recognized for her sophisticated, fashion-forward designs. With a background in and passion for music, Nikki spent years honing her songwriting skills and performing with the band Secret Mind before going solo.
Simultaneously, Nikki joined the design team at Jill Stuart in an effort to sustain her interest in fashion. In 2005, she launched the loungewear line Eccentric Symphony.
Interest in the line, and her band, grew exponentially. During this process Nikki also made her own stage clothes, attracting a growing audience for her music and her sense of style – and catching the attention of legendary musician Richie Sambora, which resulted in the formation of Nikki Rich. As co-designer, Richie is heavily involved in every aspect of Nikki Rich, working closely with Nikki to develop each collection.
Guests of the store will receive a signed photograph and can have their photograph taken with Nikki and Richie.
When:
Saturday, October 12 from 1:00 p.m. to 3:00 p.m. Yorktown Center store (145 Yorktown Shopping Center, Lombard, IL 60148)
Interview Opportunities:
Saturday, October 12 – 12:00 p.m. to 1:00 p.m. – Nikki Lund and Richie Sambora will be available for pre-scheduled interviews.
Note: Nikki and Richie are also available for phone interviews upon request on days and times prior to the event.
**Interviews must be conducted with both Nikki and Richie simultaneously; separate interviews will not be granted.
Please note: Von Maur requests attending media refrain from interviewing its associates and customers shopping in the store.
About Von Maur:
Von Maur was founded 140 years ago in downtown Davenport, Iowa, by C.J. von Maur. The company currently operates 27 stores in 11 states, along with its E-Commerce Fulfillment Center.
The company also runs a successful online business at vonmaur.com. Von Maur is known for its outstanding customer service and customer amenities, including an interest-free charge card, liberal return policy and free gift wrapping and shipping services.
The company also offers its associates above-market wages, excellent benefits and a positive, professional work environment. At Von Maur, customers find a great selection of merchandise including first-in-the-market fashions and a wide selection of brands such as Eileen Fisher, Free People, Coach, Joe's Jeans, and Tommy Bahama, among others. For more information, please visit Von Maur's official website.
About Nikki Rich:
Nikki Rich is a lifestyle brand that invokes a modern sensibility by fusing music, art, and fashion. Co-designed by Nikki Lund & Richie Sambora, the pair are successfully bridging the gap between designer and contemporary fashion. Pairing luxe textiles with impeccable craftsmanship, Nikki Rich offers a unique designer aesthetic at an affordable price.
The brand's effortlessly deconstructed collections echo the pair's eclectic personal style. They help consumers find their style by offering a chic blend of tailored jackets and blazers, silky shirts, knit tops, flattering pants, and feminine dresses.
Additionally, the pair push the limits of design with custom pieces created for a very discerning celebrity following including Carrie Underwood, Jon Bon Jovi, Kelly Clarkson, Kate Beckinsale, Nicole Scherzinger, Miley Cyrus, Tiffani Thiessen and Karina Smirnoff.
Nikki Lund said: "This retailer has taken care to make sure they are bringing the very best brands to their loyal customers and we are honored to be among them."
Press enquiries for this event contact: Brendan J. Griffith
R e p u t a t i o n P a r t n e r s
105 W. Adams St. | Suite 2220
Chicago, IL 60603
312.819.5720 (office) | 847.899.2135 (cell)