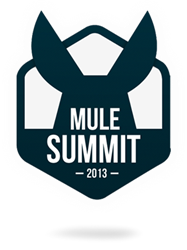 Seattle, WA (PRWEB) October 08, 2013
Today MuleSoft, provider of the world's most widely used integration platform to connect the New Enterprises, kicks off the MuleSoft Summit series across several locations in the US, Canada and Europe. For the second year in a row, Confluex will be featured as a Premier sponsor of the MuleSoft Summits. MuleSoft summits provide Enterprises an opportunity to share best practices for implementing SOA, Saas, integration and API Management solutions, in addition to learning more about Mule Soft's leading integration API platform.
At each event, attendees will have the chance to meet and to network with the Confluex team as well as to learn best in class integration techniques from leading MuleSoft users and experienced MuleSoft architects. There will be opportunities to network with industry leaders and MuleSoft experts including Ross Mason, Founder and VP of Product Strategy and CTO Uri Sarid.
Each MuleSoft summit features customer speakers and breakout sessions that provide chances to problem solve with MuleSoft integration experts and trusted technology partners. Attendees will gain knowledge on how to implement and use the latest MuleSoft technologies with a snapshot of what is planned for future releases. Participants will develop better contacts with integration experts to gain knowledge in API management, SOA Governance, enterprise security, and integration architecture. These "wins" will pay off in the form of streamlined practices, tested solutions, and a network of peers to call upon when troubleshooting.
"Confluex is proud of their partnership relationship with the MuleSoft team and impressed with the dynamic capabilities their products bring to our customers," said Phillip Grove, Confluex President. Confluex is the leading provider of professional services for enterprise integration architects and cloud technologies.
Register for the event at mulesoft.com/mule-summit (http://www.mulesoft.com/mule-summit). Use the code CON20 and receive a 20% discount on admission. For more details, visit the official page on the MuleSoft website.