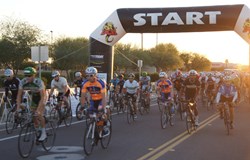 What's truly remarkable is the amount of money the cyclists raised in support of new cancer clinical trials. We are truly poised to make an impact."
Schaumburg, Illinois (PRWEB) October 03, 2013
Hundreds of avid cyclists rallied together in Arizona's West Valley to help make a difference in the fight against cancer. On Sept. 28, nearly 500 riders clipped in for the inaugural Trails 4 Trials cycling event in Goodyear, Ariz., raising more than $212,000 that will be used to fund new and potentially life-saving cancer clinical trials for cancer patients who need it most.
Avid cyclists competed in 100, 50 and 25 mile distances while families and casual riders had their own 3 mile fun ride to experience the thrill of crossing the finish line. Professional cyclist Robbie Ventura participated in the charity ride with his mother in mind, who is a breast cancer survivor. Also, Ventura served as the event's emcee and provided VIP perks to top fundraisers and sponsors.
Participating in the ride was Chad Eckes of Goodyear, Ariz., who formed a team of family, friends and co-workers to ride in honor of loved ones affected by cancer. "I ride for my grandparents who I've lost to cancer, and the many family and friends who have suffered with this disease," he said. Eckes and "Team Hopeful" raised more than $12,000 for the event's charity beneficiary, Gateway for Cancer Research.
The Trails 4 Trials cycling event was put on by Gateway for Cancer Research, an internationally-reaching nonprofit organization that funds early phase cancer clinical trials purposed to help today's patients feel better, live longer or be cured. The charity and event organizers were thrilled by the overwhelming enthusiasm and support for this inaugural bike ride.
"The event was a great success both on and off the course," said Karen Kay, director of Development for Gateway for Cancer Research. "It was a beautiful day for a ride, and what's truly remarkable is the amount of money the cyclists raised in support of new cancer clinical trials. We are truly poised to make an impact."
Registrations and donations from the event will be used to support innovative cancer clinical trials funded by Gateway for Cancer Research. The nonprofit currently funds 28 cancer clinical trials and is continually partnering with researchers to introduce bold, new research studies for patients with any type of cancer diagnosis.
Gateway is unique among other cancer research charities in that 99 cents of every dollar received directly funds the cancer clinical trials it supports, a result of generous corporate underwriting by Cancer Treatment Centers of America.
"Cancer affects all of us, and we are doing all that we can to put an end to this terrible disease," Kay added. "Lifesaving treatments are within reach, and events like Trails 4 Trials help to raise money for meaningful cancer clinical trials that can potentially alter the way cancer is treated today."
The event culminated in a bike bash celebration where cyclists and spectators alike celebrated all they accomplished with an awards ceremony, live music, children's' activities and high flying BMX stunt shows.
Signature event sponsors for Trails 4 Trials are Cancer Treatment Centers of America, Prime Logic Partners, AHEAD, Sunquest and VMware. Race day sponsors include Core Performance, Healthyroads, EMC2, International Capital & Management Company, MSS Management Consulting Services and the Chad Eckes family. In-kind donations and event support services were provided by Life Time Fitness, Global Bikes, U.S. Foods, Walgreens and Dunkin' Donuts.
The annual Trails 4 Trials cycling event is tentatively scheduled for Sept. 20, 2014. For more information on next year's event, visit Trails4Trials.org.
About The Gateway for Cancer Research
The Gateway for Cancer Research is a nonprofit 501 (c)(3) organization committed to funding innovative cancer research and bold new ideas for lifesaving treatments that can make a difference today. Thanks to generous underwriting, 99 cents of every dollar received funds phase I and phase II cancer clinical trials all over the world to find better treatments and cures for today's cancer patients. Since its founding in 1991, Gateway has supported more than 100 clinical trials and funded millions in leading-edge research, including blending the best of conventional and complementary/alternative therapies. It's time to stop cancer. Get involved today by visiting DemandCuresToday.org, like us on Facebook at facebook.com/demandcures and join the conversation on Twitter @DemandCures.