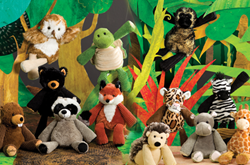 Scentsy Buddies are huggable cuties that come to life with the help of a Scent Pak.
New Jersey & New York (PRWEB) October 15, 2013
While Scentsy has already perfected the wickless candle business, they have decided to expand their business by adding scentsy stuffed animals known as a Scentsy Buddy. These scentsy animals make wonderful gifts for children of all ages and adults alike. The way the animals work is that there is a zipped pocket located on the back of the animal and you insert a special scent pak that comes in a variety of scents and it gives off a pleasant scent for the child to enjoy.
There are two collections. Scentsy Buddy Forest Collection is full of friends just waiting to come out and play. There's nothing these Buddies love more than soaring through tree branches and darting across the woodland floor — except for cuddling. These limited-edition Buddies won't be around forever, so grab a snuggly friend while you can.
Or choose from the Scentsy Safari adventure collection. These fuzzy friends of the Safari Collection are inspired by the amazing wildlife of Africa. But hurry — these Buddies will return to the wild soon.
Scentsy Buddies come to life with a simple insert of a Scent Pak into a pocket located in the animal. Scent Paks are also perfect for use in drawers, closets, gym bags or anywhere you would like a touch of Scentsy.
There are twelve scentsy stuffed animals to choose from and baby buddies are also available. The scentsy buddy are even named: they are Gambi a gorgeous brown gorilla, Halla the Hippo, Twiggy the Turtle, Havi the hedgehog, Jamu the giraffe, Bramble a beautiful black bear, Fern a red fox and many more especially in my sites closeout section. These scentsy buddies are about ten inches when in the sitting position. They make great cuddle buddies and have been kid tested for durability.
As part of a set a scentsy buddy comes with the choice of one scentsy pak. Scent paks are only available in a limited number of scents but more have been added for the Fall/Winter seasons. The scents available for scentsy scent paks are Paradise Punch, Black Raspberry Vanilla, Camu Camu, Cucumber Lime, French Lavender, Havana Cabana, Machadoodle, Perfectly Pomegranate, Satin Sheets, Sunkissed Citrus, Sweet Pea Vanilla, Vanilla Suede and more. These scent paks are made with non-toxic plastic beads injected with fragrance oils this is so if ingested they will not cause any harm to the child. These scentsy stuffed animals are made with children and parents in mind.
When trying to find presents for the child that has everything, think scentsy buddy. Come browse the full collection to find your favorite.