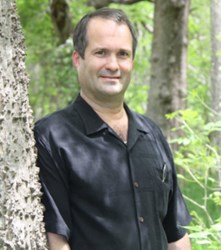 Denton, TX (PRWEB) October 02, 2013
Todd McCracken, DDS, and his team at Laser Smile Studio now offer dental implant restorations to both patients who have healthy jaw bone density and those who have experienced advanced deterioration of the jaw bone. Patients with multiple missing teeth and low bone density can now receive the All-on-4 implant procedure.
The bone in the jaw needs to be dense enough to support implants in order for their placement to be successful. Some patients only have proper bone density in certain areas of the jaw. In these cases, Dr. McCracken designs an All-On-4 restoration solution. This procedure requires that Dr. McCracken's implant team place only four implants, where the bone density is at its best. These implants act as anchors for a full or partial denture. The patient will first wear a temporary set of dentures. After a period of about three or four months the dental implant restorations will have fully fused with the jaw bone and the patient will be fitted with a permanent set of dentures.
A permament tooth replacement is beneficial because dental implant restorations serve the same function as natural teeth, rooting into the jaw bone and creating support and stimulation. Not only do implants hold jaw bone structure, but they also fill gaps and stop the remaining teeth from shifting and becoming misaligned.
Individuals seeking a permanent tooth replacement can visit http://www.lasersmilestudio.com for more information about All-On-4 restoration.
About The Doctor
Dr. Todd McCracken is a general dentist offering personalized dental care for patients in Denton, TX. Dr. McCracken received his DDS from the University of Texas Health Science Center at San Antonio in 1997. He received the honor of Master from the Academy of Laser Dentistry in 2000 and is a frequent lecturer at national and local dental meetings across the country and one of 25 certified instructors at The Institute for Advanced Laser Dentistry. It is here that he became certified and joined one percent of dental professionals in offering the only FDA cleared laser procedure LANAP for gum disease and periodontal treatment. To learn more about Dr. McCracken and his dental services visit his website at http://www.lasersmilestudio.com and call (940) 293-2090.