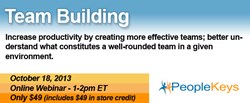 This hour long live webinar explores how strategies of DISC behavioral analysis can be used to create cohesive, collaborative, and well-rounded teams.
Boardman, Ohio (PRWEB) October 15, 2013
What happens when teams include people with the right skills, but the wrong personalities? Productivity and success can be severely compromised when teams are made up of individuals with clashing personalities or incompatible work styles. Study after study has shown that it's not competence that makes a strong team, it's cohesiveness.
On October 18 at 1pm EST, PeopleKeys, an Ohio-based company that specializes in developing and implementing workplace behavioral solutions, will stream a live webinar that explores how strategies of DISC behavioral analysis can be used to create cohesive, collaborative, and well-rounded teams. In the hour-long Team Building webinar, attendees will learn to:

Understand and appreciate different personality styles
Recognize the unique talents each individual brings to a team
Improve team cohesiveness through communication
Build balanced teams based on individuals with overlapping skill sets
Boost team productivity and performance
DISC is an acronym for Dominance, Influence, Stability, and Compliance. It is a method of behavioral analysis that has been successfully used for over 70 years. Each of these letters in the DISC acronym represent a personality type that exhibits quantifiable, measurable patterns of behavior. Through understanding the ways in which DISC personality types think, feel, and relate to one another in a team environment, and by looking closely at the unique skills each personality type brings to the table, companies can employ fast, affordable, and easily-implementable strategies for improving team dynamics.
The Team Building webinar is part of PeopleKeys' popular DISC for the Real World series of live training events, led by PeopleKeys Director of Corporate Communications John Schindell. The live Team Building webinar will begin at 1 pm Eastern time on Friday, October 18. It's a unique, risk-free way to learn about the applications of DISC while gaining tips and techniques that business and organizations can immediately employ in the workplace.
Registering for the Team Building webinar costs just $49. As an added incentive, the $49 registration fee unlocks access to two free DISC reports, a value of over $50. These reports will be loaded onto a free customizable PeopleKeys account that can be used to purchase additional DISC reports online, send assessment invitations, and track results.
The DISC for the Real World training series from PeopleKeys will continue throughout the rest of the year, with one new webinar per month. Future topics include Leadership Development in November, and DISC Factor (Train the Trainer) in December.
Prospective attendees may call 800.779.3472 with any questions, or visit DISCInsights.com to learn more about the DISC for the Real World training series. Online registration for the October 18 Team Building webinar is available at DISCInsights.com.
About PeopleKeys
PeopleKeys has been providing tools to measure the connection between personality and human behavior for over 25 years. They have pioneered a state-of-the-art online delivery system with instant access to DISC personality courses, behavioral assessment tools, and a wide selection of customizable tests and reports. Translation is available in a variety of languages, making PeopleKeys the international leader for helping individuals unlock their potential. More information on the company and their DISC solutions is available at PeopleKeys.com and their sister site DISCInsights.com.