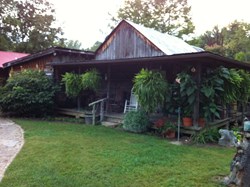 Finally! So wonderful to see this Festival in Unicoi, TN. - Bobby Price, Nashville Radio Round Up
Unicoi, TN (PRWEB) October 03, 2013
The Johnson City Folk Festival has had a great tagline for years: No voice too small, no stage too big.
But this year, for 2013, it should have been "All good things come to those who wait".
Why?
Because by waiting and looking patiently for a location for two years, what they have found is a gem of gems, a veritable Shangri-la in the Mountain Kingdom that is the Tri-Cities of East Tennessee. This gem is tucked into the side of Buffalo Mountain, between The Cherokee National Forest and Buffalo Creek, which runs right through it.
Introducing The Jewel of The Mountain Kingdom and the new home of The Johnson City Folk Festival: Unicoi, Tennessee.
The Festival has moved to Unicoi, Tennessee, from Johnson City, where it all began. Unicoi is about 5 miles on Rt. 26 S from it's former location, and about a million gazillion miles away from... well, let's just say this new location - The Farmhouse Gallery and Gardens - is simply all anyone could have asked for.
What closed the deal, say Festival Organizers, was the huge sign out front of Unicoi that read in 10ft. tall letters : We're Open For Business...! Apparently the City of Unicoi and it's Mayor Johnny Lynch were immediately supportive, helpful and remarkably tuned in to the economic benefits to Unicoi of a large and growing regional folk festival that has a raucous history and significant regional pull as well as a storied musical legacy.
Congratulations, Unicoi, Tennessee. Jackpot!
Three stages, vast green meadows and a full kitchen that can serve 900 make this a perfect location for this year's Festival. The Main Stage - The Clyde - can hold 300, The Pavilion can hold 150 and the Blacksmith Stage can hold 75 and all stages can run at the same time if necessary. They are close to each other, too, so a mad dash across town to see the next act isn't the norm here. Festival-goers can saunter to the next show in less than two minutes.
This is a November Festival, and the firewood for the huge wood stoves in all the stages is already starting to accumulate. The firewood requirements for these stoves, the bread-making ovens and the endless streams of pies and biscuits these stoves produce, is significant. A lot of firewood.
The performers are lining up and The Festival Crowd is excited for the long wait for a location is finally over. Festival Favorites Regan Boggs, Dixie Ghost and many others are on schedule to return this season and new names are everywhere: Emma Nelson/Wilmington, NC, Cowboy Slim/Nashville and Tim Avram from Saginaw MI, a standout from the upper Midwest.
Of interest to The Festival this season is In The Music Room in Waxahatchie, TX , run by Randy Tredway. In The Music Room has become a vortex for the Texas Folk Scene, a touch-stone for anyone who is anyone playing music in Texas. In The Music Room is a remarkable effort and the word is The Johnson City Folk Festival supports Mr. Tredway without reservation. It's unclear if Mr. Tredway will send Texas' best up to Unicoi, but you never can tell with folks from Texas.
The Festival runs for 4 days and will cost Festival goers $10 per day - which includes parking. Gates and The Covered Bridge open at 12 noon on Thursday, Nov. 7th, and music begins around 1pm. Thursdays and Fridays are solo and regional acts, Saturday is for Festival Favorites and National Acts and Sundays are Players Days and feature intimate performances by stellar players, songwriters and an occasional surprise guest.
To be selected to appear at The Johnson City Folk Festival, all artists and performers are asked to submit an application, which is available at the Johnson City Folk Festival website. Vendor and sponsorship application packages will be available too.
The applications are reviewed by the Music Programmers; the four days' performers are selected, notified and booked by November 1, 2013. The Johnson City Folk Festival usually begins the first week in November. This year, 2013, the festival dates are November 7, 8, 9 and 10. Because of the late start in getting the location secured for this year, The Folk Festival will accept apps right up to Nov 5th and if there is room we will fit as many performers and artists in as possible...
This year, ToneRite, Inc. of Gainesville, FL may be on hand to showcase and demonstrate their Guitar Vibration Systems, and ToneRite artists will be available as well, schedules permitting.
The Johnson City Folk Festival, Inc. © 2013, All Rights Reserved. Respective trademark and copyright laws protect the Johnson City Folk Festival and The Chet Atkins Guitar Competition. The Johnson City Folk Festival can be reached at 202-255-1995, All correspondence should be directed to Johnson City Folk Festival, Unicoi, TN