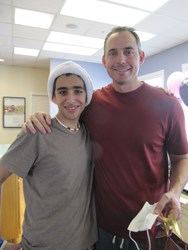 "As we started reading his story, we knew there was something special about Gabriel. He comes from humble circumstances, yet he always has a smile on his face and such an upbeat personality." - Dr. Brett Coleman
Syracuse, Utah (PRWEB) October 10, 2013
Dr. Coleman of Coleman Orthodontics believes that smiles can change lives and became a part of the Smile for a Lifetime (S4L) Foundation by forming a local chapter in 2009. S4L chapters provide orthodontic scholarships to children who would not normally be able to afford braces. Each year Dr. Coleman awards six or more scholarships and to date has served over 20 children in the Syracuse area. Gabriel is an exceptional student, serves in his church, helps care for his siblings and nieces, is an artist and wants to be a filmmaker and director when he grows up!
Because of his mother's and Gabriel's determination to get his application in on time, Gabriel was chosen to receive a scholarship. Dr. Coleman's Chapter, S4L of Northern Utah, is currently accepting applications. Watch Gabriel, Dr. Coleman, his family and a local S4L board member share their story in the video attached.
Smile for a Lifetime creates self-confidence, inspires hope and changes the lives of young people across North America through the gift of a smile. If you or someone you know needs braces, ages 11-18, and can't afford them please click here to apply locally. Or visit http://www.s4l.org to locate a chapter near you. Smile for a Lifetime has 150 chapters in the U.S. and Canada.