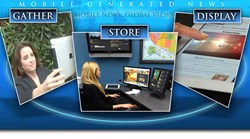 Cardiff by the Sea, CA (PRWEB) October 03, 2013
Mobile Generated News® (MoGN), a new Mobile APP, Content Management System and Web Viewer Platform will benefit Spanish Language Television Stations, nationwide. This new service allows television viewers to connect with local stations by sharing original videos and still images directly from their mobile devices to local TV stations.
Viewers become "Citizen Journalists" providing content such as Breaking News, hyper-local events and personal commentaries. Stations benefit by getting material on the air and their websites before the competition. They also have the ability to promote upcoming stories and share content with other TV stations and News Organizations in their group.
"This MoGN application enables Univision to roll out a UGC solution, all at one time, to all of our markets." said Ken Wilkey, Senior Vice President, Engineering, Univision Television Group.
"We were pleasantly surprised to see the strongest use, during our BETA Development, was for stations' in-house use of the App. Their local News Reporters filed and pushed to air, Raw News videos, said Gill Davis, President/CEO of MGN Online, the parent company of Mobile Generated News®. This raw content production look is just another way to reach the younger demographic, YouTube generation, as well as save stations costly production expense."
OP-ED use by Citizen Journalists will be an important dimension. The App will work great for Breaking News and, perhaps more importantly, Mobile Generated News® will give local CJ's a voice and a way to post their own News Reports and deliver them directly to MoGN News Affiliates. These CJ Commentaries will encourage other community members to participate in a dialogue adding different and diverse points of view to a Local or Global story.
The APP will be custom branded and offered to Citizen Journalists (CJ's) in both Spanish and English. It will also have a new, interactive, MoGN CJ Alert feature. This will enable each TV Station Affiliate to reach out to their MoGN Registered Users via a personal email and Push Alerts to notify them that News is breaking in their area. When a local user registers the APP they select the specific station to share their Mobile Generated News® content.
A great deal of thought and research has gone into the development and deployment of Mobile Generated News®. Affiliated News Directors will participate and co-develop standards and Policies and Procedures for their Stations and Station Groups creating a true collaborative experience as Mobile Generated News® expands from market to market.
Mobile Generated News® is the latest syndicated product from MGN Online (http://www.mgnonline.com). America's premier resource for still and animated graphics, MGN Online has a wide-ranging client roster of affiliates extending across print, television, and online media. MGN Online serves Newspapers, TV News broadcasts, webcasts, web radio and other news and information services 24/7 through its innovative content creation, storage and distribution facilities. MGN Online is a division of Multimedia Graphic Network Inc., founded in 1982 and based in Cardiff by the Sea, California.