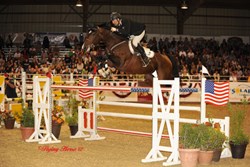 Sacramento, CA (PRWEB) October 03, 2013
Join us this weekend for an exciting lineup of events at the Murieta Equestrian Center! The Sacramento International Horse Show features world class show jumping, with top riders from around the world. Top International show jumping riders include Australia's Harley Brown, Egypt's Nayel Nassar, and the US's very own Olympic Gold medalist, Will Simpson. Mark your calendars, and don't miss any of the fun! Here's what's on tap for Friday and Saturday, October 4th and 5th.
Friday, October 4th
Land Rover Ride and Drive - 7:00 pm
Riders and their horses compete over a challenging jumper course, and then the fun really begins. After completing the course, riders must dismount and navigate a Land Rover vehicle through a series of cones to win. The fastest rider with the least amount of faults riding and driving is the winner.
High Jump Competition - 8:15 pm
How high will they go this year? The High Jump Competition is a perennial crowd-pleasing favorite! Riders and horses compete to see who's left as a jumping obstacle is raised after each jumping effort. In previous years, horses have cleared 6 feet, 7 inches.
Saturday, October 5th
Land Rover Grand Prix of Sacramento
This exciting 1.60m Grand Prix features top riders and horses from around the world competing against time, with one initial course and one jump-off. Competitors with equal penalties for first place jump off against the clock. This is an FEI World Cup and Thermal Million qualifying event.
Tickets for both nights available at the gate and online at ticketweb.com.
For more information, visit the Jump Sacramento website.