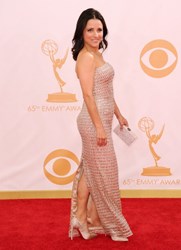 Los Angeles, CA (PRWEB) October 04, 2013
The 65th Primetime Emmys had some serious style and two of the evening's top looks were designed by Monique Lhuillier, a graduate of the fashion college FIDM/Fashion Institute of Design & Merchandising. The awards ceremony was held just blocks from FIDM's Downtown Los Angeles campus where Veep actress Julia Louis-Dreyfus, who won her second consecutive Emmy for Best Actress in a Comedy Series, stunned the crowd in a sequined Lhuillier Resort 2014 gown that shimmered on stage. Adding a bright pop of color to the red carpet was Anna Faris, who currently stars in Mom with Allison Janney, in a canary yellow Resort 2013 dress.
Lhuillier, who majored in fashion design at FIDM, launched her self-titled company in 1996 with a bridal collection. After becoming a top American wedding dress designer, Lhuillier added ready-to-wear and eveningwear in 2001. She has attracted fans such as First Lady Michelle Obama, Kristen Stewart, Drew Barrymore, Hilary Swank, and Katie Holmes. There are Monique Lhuillier salons in Beverly Hills and Minneapolis. She recently launched a bridesmaid dress line, ML Monique Lhuillier Bridesmaids, which is sold at Nordstrom.
"I didn't know how to cute and sew before I came to FIDM," explains Lhuillier, who was raised in the Philippines. "When I was a student I was full of dreams and knew I loved clothing, but I was also scared. I was fortunate that I could start my own line and risk it all." In addition to her success in fashion, Lhuillier has designed a tabletop collection for Royal Doulton, footwear, stationery and fine paper, and a bed, bath, and home collection.
FIDM/Fashion Institute of Design & Merchandising is a co-educational, specialized, private college dedicated to educating students for the Fashion, Graphics, Interior Design, and Entertainment industries. Known as a one of the top fashion design schools, FIDM is also a leading graphic design school and digital media college. Visit fidm.edu for more information.