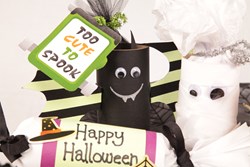 Reading, PA (PRWEB) October 07, 2013
Just in time for the spookiest of holidays, R.M. Palmer Company has launched their new Halloween website filled with easy-to-make candy-inspired recipes, kid-friendly crafts and inexpensive party decoration ideas. The chocolatier, known for Making Candy Fun!, has focused on helping budget-conscious moms find fun and creative ways to celebrate Halloween without spending a lot of money.
Visit Palmer's new Halloween website to find:
Crafts
Palmer's Halloween site features a Halloween crafts section filled with downloadable coloring pages, pumpkin carving stencils and trick-or-treat packs for kids of all ages.
One trick-or-treat idea that's out of the ordinary (and can be made for about $1 each) are the trick-or-treat packs. Constructed from recyclable materials and products you'd find around the house, kids can let their imaginations run wild - creating bats, spiders, pumpkins and other hauntingly fun pieces for the packs. Visit the Trick-or-Treat Packs page for details.
Recipes
The new site also has a Halloween recipe area, featuring eight kid- and parent-approved recipes like Zombie Dirt Dessert, BOO! Cake and Creepy Peepers Pumpkin Pudding Trifle. Each recipe can be made for around $10 and are designed to allow kids of all ages the chance to join the fun.
Party Décor
Looking for a unique addition to your Halloween décor? Check out our crafts section to find ideas like Halloween Party Candy Towers and add a tasty centerpiece for your table. With a budget-friendly supply list, you can easily create an impressively spooky (and fun to eat) centerpiece in about an hour. Complete your hauntingly good look with Halloween-themed sweets like Palmer's Goog-ly Eyes, Chocolaty Body Parts or Ghostly Goodies.
More Boo for Your Buck
Trick or Treaters love Palmer too! Moms appreciate Palmer's reasonably priced Candy Dish Value Bags and Trick or Treat Bags - filled with up to 3 pounds of candy per bag - all under a suggested retail price of $9.99. Use our convenient Candy Finder to find nearby retailers (more than 80,000 in the US) carrying Palmer's Halloween products, including the new Snappin' Skulls with Pop Rocks® and big Value Bags.
ABOUT RM PALMER COMPANY
R.M. Palmer Company has been crafting fun, seasonal chocolate novelties since 1948. Today, the R.M. Palmer Company is considered one of the top 75 confectioners in the world. From their headquarters in West Reading, PA, Palmer's 850 dedicated employees design, produce, package and ship more than 500 unique items to nearly 100,000 retail locations in North America - making it one of America's largest and most innovative confectioners.