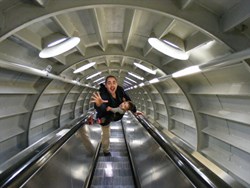 "Babywearing fulfills a child's need to be held and promotes bonding between children and caregivers." Susan Chanse, President of Babywearing International, Inc.
(PRWEB) October 05, 2013
Babywearing International, Inc. is leading nonprofit organizations all around the world in celebration of the sixth annual International Babywearing Week, which will be held from October 7-13, 2013.
International Babywearing Week is an opportunity to help focus the world's attention on "babywearing," a term coined by pediatrician and author Dr. William Sears and his wife Martha Sears. Babywearing simply means carrying a baby or young child on one's body using a cloth baby carrier. Not only does babywearing allow parents to have both hands free while carrying their children, but research is also shedding light on how this practice has numerous benefits for children and their caregivers.
A study published in the journal Pediatrics in 1986 found that 6-week-old babies carried at least three hours a day in a soft carrier cried and fussed 43 percent less than others overall, and 51 percent less in the evening hours. Another study, published in the journal Child Development in 1990, found that mothers who were given cloth carriers at birth were more responsive to their babies and had babies who were more securely attached than mothers who received plastic infant seats.
The theme "Get Carried Away" is being celebrated by groups around the world with activities such as carrier sewing labs, babywearing walks, fashion shows, workout sessions, and video contests to raise awareness of the variety of activities that can be accomplished while wearing infants and small children.
"Babywearing International, Inc. is proud to lead these babywearers in an effort to "Get Carried Away" about promoting babywearing as a universally accepted practice," explained Susan Chanse, president of the nonprofit organization that initiated the week-long celebration. "Babywearing fulfills a child's need to be held and promotes bonding between children and caregivers. Baby carriers enable caregivers to hold their babies comfortably, securely, and for long periods of time while performing daily tasks in the home or on the go. Most caregivers find babywearing to be an indispensable tool while caring for young children and want to share their love of this useful tradition with others," said Chanse. "Evidence of this desire to spread the knowledge of the practice of babywearing can be seen in the rapid growth in the babywearing industry since International Babywearing Week was first established, the formation of new babywearing groups around the world, the popularity of babywearing schools providing formal education, and the growing number of experienced babywearers serving as Volunteer Babywearing Educators for chapters of Babywearing International, Inc."
Babywearing International, Inc. will also be hosting contests on Twitter [#2013ibw] and Facebook as well as on their blog.
At the international level, presenting sponsors Babywearing International, Inc., and TheBabywearer.com are coordinating the International Babywearing Week awards to recognize excellence in babywearing advocacy and education. International Babywearing Week is funded by: makers of baby carriers, Ergobaby, Beco, Onya Baby, and Baby K'tan; makers of artisan wraps, Pavo Textiles; makers of safety-tested rings for slings, SlingRings; Marsupial Mamas, retailer of fine baby carriers, wraps and ringslings ; and MommyCon, host of parenting conferences throughout the USA.