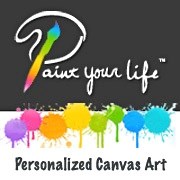 McKinney, TX (PRWEB) October 03, 2013
PaintYourLife has announced some special tricks and treats for the Halloween season. With a number of pop art styles now available from http://www.popartpros.com, and new styles regularly being released, it is easier than ever to have a custom piece made for your home, whether it is a year-round piece of décor or a special, spooky piece of art to celebrate the most haunted holiday of the year.
A number of new styles available from http://www.PaintYourLife.com are perfect for your Halloween celebration. A custom oil painting can help buyers to create a piece that looks more like it belongs in a renaissance castle – or a vampire's den – than in his or her home, while the graphic print style can help an individual and their entire family morph into a group of crime-fighting superheroes pulled straight from the pages of their favorite comic book.
The process for this is incredibly simple. Buyers need only send in a photograph of themselves or their family in costume and a professional artist at PaintYourLife can edit the picture into whatever style they want. If other additions are wanted or needed – perhaps a medieval castle or a gloomy forest – an individual need only discuss the idea with their PaintYourLife consultant. Anything is possible with these incredible custom photo print to canvas creations.
PaintYourLife is excited to offer these exciting Halloween prints to their customers at the same low prices available throughout the year, and now there is a special Halloween discount. Customer should use Halloween13 to obtain a 20% discount from all of the sites, including http://www.CanvasGurus.com if they want a simple photo to canvas print. This innovation and the ability to create great new portraits and prints, no matter the original photograph or design, is what has made PaintYourLife a leader in the niche market of custom print creation.
PaintYourLife continues to offer the same great deals in custom oil paintings as they always have, in addition to the many new editing styles that are being made available. And while the haunting season is just now approaching, there are already several holiday specials in place – gift-giving season may still be three months away, but for those who want to buy early and ensure they get their custom painting time, it is the perfect time to start shopping.
About PaintYourLife
Since 2006 PaintYourLife has been the leading provider of online art products and features one of the world's largest selections of canvas and art products. All products are designed by a team of professional graphic designers, and each product is created with the utmost quality and attention to detail. The site, which is a leader in the online art industry, has seen tremendous success because of customer and word-of-mouth referrals, and continuously works to develop innovative new ways to cater to an extensive range of needs.