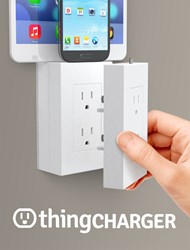 thingCHARGER is poised to be the go to charging station for all your tech needs. No longer will you have to search room to room to find devices or free plug space. It's like a dream come true. - Stormy Beach, Senior Editor, AndroidSPIN.com
New York, NY (PRWEB) October 03, 2013
On the heels of the USB condom sellout, thingCHARGER has announced the release of its new charging solution for smartphones, tablets and other mobile devices. It gives individuals the advantage of charging one or multiple things at once, all from any standard outlet with no messy charging wires and no chance of 'Juice Jacking.'
"The hottest thing now is to protect devices from 'Juice Jacking' at public charging stations. Our philosophy is to have your own protection. Just one thingCHARGER allows you to turn any regular US outlet into a charging station for up to 3 devices – and still keep both outlets free to use. Think about the airport with everyone vying for a power outlet. thingCHARGER lets people 'bring their own charging station' to any public site," said Seymour Segnit, Founder and Inventor of thingCHARGER. "We've designed a solution which is ideal for the home and office and is great for travelers. No need to try and keep up on the latest data-theft ploys that hackers are creating… simply bring your own protection."
thingCHARGER plugs into any outlet, then any smartphone, tablet or reader sits directly on top, eliminating messy cords while easily charging the device. Each unit is equipped with several interchangeable charging tips so can handle almost any device mounted on top, as well as having two USB ports and two regular outlets. thingCHARGER offers the ultimate in "protected charging." No need to worry about hackers because the unit simply lowers the mains voltage from 110v AC in the United States to 5v DC and isolates any devices it charges. There is no data connection involved, so 'Juice Jacking' is impossible.
"thingCHARGER is poised to be the go to charging station for all your tech needs. No longer will you have to search room to room to find devices or free plug space. It's like a dream come true for tech geeks like me – and everyone who owns a smart device," said Stormy Beach, Senior Editor, AndroidSPIN.com.
Product Highlights:

Plugs into any standard US outlet so you are ready wherever you go.
Stack 2 or 3 thingCHARGERs together and charge all your things at once.
Charges over a billion devices thanks to interchangeable charging tips which store neatly in
the back

2 built-in USB ports, just in case
Green by design – most chargers use power when plugged in unused. thingCHARGER has
a simple switch – just click for conservation.

Extremely portable – less than 1-inch THIN…slim never looked so sexy!
Product Specs:

Plug Type – twin standard U.S. 3-pin plug
Charger Output Voltage – Standard USB 5 volts DC
Charger Outlet Types –
One topInter-changeable charging tips (switch tips in seconds)
Two USB outlets
Two U.S. 110 volt twin outlets
Input Voltage – 108-252 volts AC
Weight – 6.5 oz
Dimensions – 3" wide x 4.8" tall x 0.8" thin
Industry Facts:

$766 million industry for phone chargers
http://www.fiercewireless.com/special-reports/accessing-accessories-americans-top-5- handset-ornaments

After-market mobile phone accessories--those sold to users after they purchase their phone-produced worldwide revenue of $26.5 billion last year, according to ABI Research. And that volume is expected to increase to slightly more than $50 billion in 2015-- a compound annual growth rate of 11.4 percent. http://www.fiercewireless.com/special-reports/accessing-accessories-americans-top-5-handset-ornaments
According to research firm Strategy Analytics, global smartphone shipments rose 78 percent annually to 77 million units during the third quarter 2012.
The mobile commerce industry is expected to grow ten-fold, from $3 billion in 2010 to $31 billion in 2016.
http://engage.tmgcustommedia.com/2012/02/mobile-resistance-is-futile/

During the first quarter of 2012, approximately 100 billion smartphone application sessions were logged.
http://thesocialskinny.com/99-new-social-media-stats-for-2012/
thingCHARGER is available for pre-order now and will launch a massive Indiegogo campaign on October 15, 2013. "We know the power of the people and so far, we have a massive following of people that want the power! So we're thrilled to launch on Indiegogo.com and allow everyone to participate in the process of bringing this amazing product to market," said Seymour Segnit.
For more information and to register for product updates, go to http://www.thingCHARGER.com.
About
thingCHARGER is a patent pending product invented by Seymour Segnit, an inveterate entrepreneur and former advertising executive. He initially created the invention for his own use and then based upon an overwhelming response to test marketing, determined its broad market appeal. He and his wife, Creative Director Amy Segnit, founded thingCHARGER in 2013 and are poised to deliver the first units to customers in Q1 2014. Their company is headquartered in New York, NY. Individuals can participate in thingCHARGER's launch through a strategically planned crowdfunding campaign which goes live on Indiegogo October 15, 2013. The product easily fits into every room in a home, every office, boardroom, hospital, community center, airport, rail stations, bar, restaurants, hotels, lobbies and any place people gather that has power. For more information, visit thingCHARGER at http://www.thingCHARGER.com or contact Sheila Stewart at 303-378-2022.