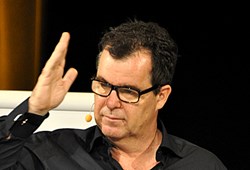 With every one of these arrangements, I've always wondered where I was going to get the money. But my wife always reminds me that Rick says we only need to put a quid in!
(PRWEB) October 06, 2013
Real estate educator, Rick Otton, has urged UK property investors to book in to his 2014 ultimate wealth summit where he will reveal new and radical strategies and techniques. During his regular Creative Real Estate podcast 'Street Smart Secrets to Real Estate Wealth', Mr Otton said that the 21 to 23 March intensive training event was 'not to be missed'.
For the past two decades, Mr Otton has coached more than 35,000 property investors around the world on his creative real estate investment strategies, which do not require people to have banking finance, a deposit, stamp duty or even any real estate experience.
"Every time we've done one of these events in the UK, they are sold to capacity well in advance," he said. "They are a not a multi-speaker event and we provide nothing short of intensive training, so people can actually learn the strategies and apply them to achieve growth and positive cash flow."
Property portfolio
During the podcast, Ian, a Rick Otton student from the UK's north-east coast, said that he initially became interested in Mr Otton's unique property investing strategies in 2009 via a rent-to-buy information pack.
"I just thought, 'This is where I want to be. This is the right person for me, end of story'," Ian said.
"I thought rent-to-buy was a fantastic way of doing things. Instead of selling my property in the normal way, I put a sign up and did it as a three-year rent-to-buy option. At the time, the market was against me and I would have lost about 10 grand if I'd sold it the traditional way."
Ian said that since that deal, he had gone on to negotiate countless successful transactions, each taking between two to four months to complete and each earning between 20,000 and 40,000 GB pounds in profit.
"With every one of these arrangements, I've always wondered where I was going to get the money. But my wife always reminds me that Rick says we only need to put a quid in!" he said.
Mr Otton said: "Well, I always prefer to get the houses for a quid but when I go to a seller and they want me to put some money in, I'll say, 'If I paid you more for the house, can I just make payments on it?' Sometimes if you pay sellers a bit more for the house they'll forfeit the money they originally wanted and just ask for a quid in return for you starting to take over their mortgage repayments."
"And it is strategies and techniques like this – and many with a new twist – that I will be presenting to potential UK property investors in March 2014.
To hear this, and other free podcasts from Rick Otton visit CreativeRealEstate.com.au. Phone enquiries in Australia can be made on 1300 888 450.
About Rick Otton
Rick Otton is a property investment professional who, over the last 23 years, has introduced innovative real estate strategies to the UK, Australian and the United States. His creative 'low-risk, high-reward' approach to buying and selling houses is exemplified in his own business, We Buy Houses.
This year marks the 10 year anniversary of Mr Otton introducing his strategies to the UK, and the 5 year anniversary of his innovative 'Buy A House For A Pound' process - one that attempted to be emulated by others. His constant process of strategy refinement, and adapting to the ever-changing real estate market, continues to place him at the forefront of property investment education.
In 2012 Rick Otton published his Australian book 'How To Buy A House For A Dollar' which was named in the list of Top 10 Most Popular Finance Titles for 2013. A UK version is on the drawing board for publication in 2014.
Mr Otton freely shares insights into his non-bank-loan strategies that have allowed everyday UK men and women to beat the rental cycle and have their own homes. He coaches others on how to build profitable businesses by facilitating transactions that focus on the needs of potential buyers and motivated sellers.
Access his free downloadable Power Property Profits Pack at RickOtton.co.uk, as are the details of early bird pricing for his next UK 3-day real estate training conference in March 2014. Phone enquiries in the UK are welcome on 0207 000 1027.