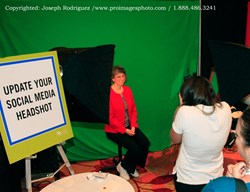 Using Green Screen Photography in your Trade show booth will increase leads and engagement.
San Antonio, TX (PRWEB) October 03, 2013
Green Screen Photography to update Social Media Headshots at Tradeshows fused with Onsite Printing Photography is in high demand and Professional Images Photography delivers.
Tradeshows are heavy with attendees that have not updated headshots or more importantly have little time to go to a photo studio or have a photographer come by the office. Professional Images Photography announced recently a new service that eliminates going to a photo studio or having a photo company come by. The latest trend is a company that wants to attract a potential new customer or engage in a current customer is to offer headshots in a tradeshow booth.
It starts with the attendee filling out a very brief card with name and email. A choice of backgrounds is provided to attendee, once chosen the photo session starts. The email collected is used to send in real time the image along with a branded message from the company. Lead generation is important to any exhibitor and this new service provides a unique and powerful way to bring something to the attendee that is needed.
In addition a photo of the attendee can be printed onsite up to 8x10 as a take away. Building brands takes time and finding a way to engage an attendee is always challenge. Many exhibitors give away pens; why not try something new, something different that will set any exhibitor apart from the rest of the competitors.
About Professional Images Photography:
Since 1987 Professional Images Photographer has been providing Convention Photography, Onsite Printing Photography, Green Screen Photography, Exhibitor Photography and Event Photo Marketing services Nationwide. Based in San Antonio, TX with offices in Houston, Orlando, Washington D.C., New York and coming soon to Las Vegas, NV. 1.888.486.3241