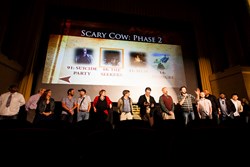 The Suicide Party film takes on the major issues of the day -- inequality, the declining middle class, and suicide due to economic distress -- and features them in an entertaining film.
San Francisco, California (PRWEB) October 03, 2013
The Suicide Party's campaign was launched on Indiegogo to fund a film that is both entertaining and raises some timely social issues about suicide, inequality, and the loss of the middle class – issues that affect many millions, since over 14 million individuals have lost their homes to foreclosure in the last five years and over 1 million people a year commit suicide – many because they are suddenly struggling economically. A new sizzle reel with highlights of the film was just added to the Suicide Party campaign site Other recent updates feature photo videos of the three day film shoot and the kick-off launch party September 11 in San Francisco with nearly 100 participants.
The film is especially timely, because it tells the story of a once successful businessman who has lost his job to outsourcing, can't find another job, is dumped by his long-time girlfriend shortly before the planned wedding, and is about to lose his house. Since he can't bear the thought of living on the street or in a homeless shelter, he organizes a suicide party with the help of his friends, who are struggling, too. If he raises enough he'll live; if not he'll end it all, leading a media frenzy and unexpected results.
Most recently, the campaign gained a partnership from Filmzu, a company based in San Monica that brings together filmmakers, cast, crew, actor, producers, and others, and is an Indiegogo partner. Other contributers include supporters from L.A. and San Francisco to New York, Illinois, and Arkansas. The campaign additionally includes links to a documentary series on middle class people losing their homes: The Middle Class Homeless.
The Suicide Party film website is at http://www.suicidepartyfilm.com, and an offbeat Save Dave website invites people from around the world to send in 10-30 second videos with reasons why we should save Dave. The site includes a contest with prizes for the best Save Dave videos. A Facebook page for the campaign is at http://www.facebook.com/youcansavedave.
The organizer of this campaign and the writer/producer of The Suicide Party is Gini Graham Scott, the founder of Changemakers Publishing and Writing and the author of over 50 published books with major companies and 30 books published by her own company Changemakers Publishing. She also writes books and scripts for clients. She has spoken about the topics of her books to many groups and the media, including appearances on Good Morning America, Oprah, and CNN. She received a PhD in Sociology from the University of California in Berkeley, a JD from the University of San Francisco Law School, and MAs in Anthropology, Mass Communications and Organizational/Consumer/Audience Behavior and Popular Culture and Lifestyles, and a MS in Recreation and Tourism at California State University, East Bay. She is pursuing an additional MA there in Communications.