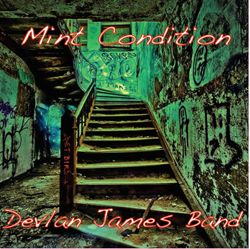 Seattle, WA (PRWEB) October 09, 2013
Tigerlion Records today announced the release of Mint Condition, the new album from Devlan James. Mint Condition includes nine new songs by Devlan James and features "The Chosen One" as the album's first single. CDs and downloads will be available beginning November 4, 2013 from iTunes, Amazon, and CD Baby. A limited edition premium vinyl release will be available at select record stores and by special order from the artist's website - devlanjames.com - beginning December 1, 2013.
Mint Condition was recorded using the best of vintage and modern technology. Songs were recorded in high-resolution digital audio before being mixed to analog tape and mastered for vinyl and CD.
The Devlan James Band has been compared to "J.J. Cale in his prime" (Norm Winer, WXRT Chicago) and "Exile-era Rolling Stones" (Jaan Uhelszki, RELIX)
Devlan James's first album - The Lookout - was released in September of 2012 and featured the single "My Little Wild Thing" which rose to #64 in MediaBase's Triple A radio charts and remained in the top 100 for seven months.
Tigerlion Records is an independent record label based in Seattle, WA and was started by Dennis Tevlin and Tiger Zane in 2012.