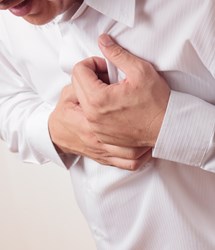 These findings can potentially lead to new treatments to help reduce or prevent diabetes related cardiovascular disease and other diabetes related disorders.
(PRWEB UK) 4 October 2013
A strong link between diabetes and heart disease is now well established. Studies from Joslin Diabetes Center several years ago showed a two-to-threefold increase in the incidence of heart disease in patients with diabetes compared with those without diabetes who were being followed in the Framingham Heart Study.
The national diabetes audit examined the NHS's treatment of almost 2 million people with diabetes in England and Wales in 2010-11. It paints a worrying picture of how the condition sharply increases the risk of other complications, some potentially fatal. Women with diabetes have an even greater risk of heart disease compared with those of similar age who do not have diabetes. 1
It found they were 48% more likely to have a heart attack, with a total of 14,500 people with diabetes having suffered a heart attack, compared with the 9,800 that would be expected to occur in the general population. In fact, cardiovascular disease leading to heart attack or stroke is by far the leading cause of death in both men and women with diabetes. 2
Several advances in the treatment of heart disease over the past two decades have improved the chances of surviving a heart attack or stroke. However, as the incidence of diabetes steadily increases, so has the number of new cases of heart disease and cardiovascular complications.
Unfortunately, in patients with diabetes, improvement in survival has been less than half as much as in the general population. UC Davis Health System researchers have identified for the first time a biological pathway that is activated when blood sugar levels are abnormally high and causes irregular heartbeats, a condition known as cardiac arrhythmia that is linked with heart failure and sudden cardiac death. "The novel molecular understanding we have uncovered paves the way for new therapeutic strategies that protect the heart health of patients with diabetes," said Donald Bers, chair of the UC Davis Department of Pharmacology and senior author of the study.
Through a series of experiments, Bers, his UC Davis team and their collaborators at the Johns Hopkins University School of Medicine showed that the moderate to high blood glucose levels characteristic of diabetes caused a sugar molecule (O-GlcNAc) in heart muscle cells to fuse to a specific site on a protein known as calcium/calmodulin-dependent protein kinase II, or CaMKII. This was reported online today in the journal Nature, the discovery helps explain why diabetes is a significant independent risk factor for heart disease.
"Since O-GlcNAc is directly made from glucose and serves as a major nutrient sensor in regulating most cellular processes, it is perhaps not surprising that attachment of this sugar to proteins is emerging as a major molecular mechanism of glucose toxicity in diabetes," said Gerald Hart, DeLamar Professor and director of biological chemistry at Johns Hopkins University School of Medicine, and one of Bers' collaborators. "However, this represents the most clear-cut mechanistic study to date of how high glucose can directly affect the function of a critical regulatory protein," said Hart. 3
The Bers group's findings undoubtedly will lead to development of treatments for diabetic cardiovascular disease and, potentially, therapeutics for glucose toxicity in other tissues that are affected by diabetes such as the retina, the nervous system and the kidneys. In an additional experiment, the team found elevated levels of O-GlcNAc-modified CaMKII in both hearts and brains of deceased humans who were diagnosed with diabetes, with the highest levels in the hearts of patients who had both heart failure and diabetes. 4
Omar El-Gohary, superintendent pharmacist at ChemistDirect adds: "Although we have known of the link between diabetes and cardiovascular disease for a while, we are closer than ever in understanding the mechanism which makes diabetics more susceptible to cardiovascular disease. These findings can potentially lead to new treatments to help reduce or prevent diabetes related cardiovascular disease and other diabetes related disorders".
References
1. http://www.joslin.org/info/diabetes_and_heart_disease_an_intimate_connection.html
2. http://www.theguardian.com/society/2012/dec/10/diabetics-heart-attack
3. http://www.sciencedaily.com/releases/2013/09/130930121852.htm
4. http://www.nature.com/nature/journal/vaop/ncurrent/full/nature12537.html