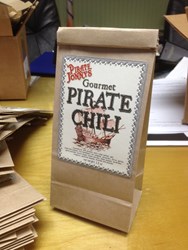 Pirate Jonny's delivers to you products that offer ease and versatility of cooking, easy navigation on their website and a line of products that are "Good on Everything!"
Clearwater, FL (PRWEB) November 26, 2013
Pirate Jonny's Caribbean BBQ Rubs, Seasonings and Sauces has a new look. The improved website will enable everyone to navigate with ease. New recipe cards are available for "ready to go" printing to make cooking with these unique rubs, seasonings and sauces even easier. Pirate Jonny would like to introduce a brand new addition to the family of rubs and seasonings.
After years of sailing the Caribbean, Pirate Jonny's knows living on hard tack alone is no fun and cooked up something special. Created for everyone with the flavors of the Caribbean and dark rich coffee is Pirate Jonny's Gourmet Pirate Chili Mix. The heat level is approximately 1.5 on a scale of 10. Also, for a quick meal, mix it in hamburger, or rub on steak and enjoy this gourmet tasting meal.
The Holidays are quickly approaching, so check out Pirate Jonny's Gift Sets on the Gifts and Specials page which are now available in limited quantities. Pick out a favorite flavor in the list of 4 rubs, 6 seasonings and 4 sauces.
"Tis the seasoning" for Pirate Jonny's Caribbean BBQ Rubs, Seasonings, and Sauces. Yo, Ho, Ho, Ho and a bottle of Rub, Pirate Chili and Gifts.