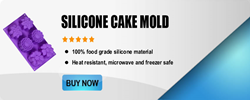 (PRWEB) October 03, 2013
Silicone cake molds are used to make homemade cakes and all sorts of confectionery; they are getting more and more popular in the market. Today, TOGOHK.com, a leading silicone cake mold manufacturer, announces its new products and designs of silicone cake molds, which are specially designed to help families improve life quality.
According to a sales manager of the company, these products are offered now at discounted prices, up to 30% off. Anyone with an order above $2000 can enjoy an extra discount.
A sales manager of TOGOHK.com stated, "We are very excited to make our silicon molds available to more people. Our products include food-grade silicone cake molds, silicone chocolate molds, custom Viton o-rings, silicone chocolate candy molds and more."
An old customer of TOGOHK.com says, "I like the products from this company. On the company's website, you can find silicone molds in a variety of shapes, colors, sizes and for various uses. Thank you very much!"
The company has a strict quality control system, and it is seeing more and more big name companies using its products, which can be a testament to the quality of its products.
About TOGOHK.com
Founded in 2003, TOGOHK has developed into a modern enterprise that offers its clients worldwide a one-stop silicone product solution from conception to delivery. With high technology engineering and advanced CAD and CAM, the company has been serving more than 3000 customers from over 70 countries. With offices in Shenzhen and Hong Kong, TOGOHK.com is offering the industry's most comprehensive platform of all kinds of silicone molds.
For more information about the business, please visit their website at: http://www.togohk.com/?gallery=silicone-cake-mould