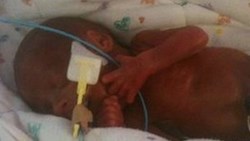 Strict hygiene protocols need to be in place, and crucially they need to be followed without exception.
Bolton, UK (PRWEB UK) 9 October 2013
According to the BBC, after being born pre-maturely, Oliver Hannan died, shortly after contracting Pseudomonas aeruginos (1). With superbugs an on-going concern for parents, it is particularly crucial that safeguards are put in place to protect vulnerable neo-natal units.
As reported by the BBC, despite being born 24 weeks early, doctors told the parents of Oliver Hannah that he was making "Fantastic" progress (3). However, a week after his early birth, he suddenly fell ill, after being infected by pseudomonas bacteria.
As explained by Medscape, Pseudomonas aeruginos infections affect those with a weakened immune system, who have been hospitalised for more than a week (2). Born prematurely, Oliver Hannan, was particularly at risk.
His parents had allegedly raised concerns about hygiene standards within the Southmead hospital's neo-natal intensive care unit; Oliver's mother Jenna Hannon described her misgivings as follows(1) -
"I would see some nurses going from one baby to another without even washing their hands, or using hand gel, and no gloves. It just doesn't seem to be adequate, the fact that us as parents are being told to wash our hands and they're, 'look, we'll do this'.
"That's how you get infections through to a baby - they're in an incubator for a reason."
Commenting on the circumstances, Asons Executive, Laura Williams –
"At Asons Solicitors, patients often make medical claims, where the occurrence of negligence could easily have been avoided.
"Pre-mature babies are vulnerable, and extra precautions need to be taken, to protect them from hospital acquired infections. Strict hygiene protocols need to be in place, and crucially, they need to be followed without exception."
In the event that someone is subject to sub standard care, they must seek legal advice as quickly as possible. Taking action can prevent the same situation from reoccurring, helping others to avoid injury in future.
Those who have suffered as a result of medical negligence may be able to make a medical claim for NHS compensation. Asons Solicitors deal with medical negligence claims on a regular basis, you can contact them on: 0844 850 1062 or you can fill out their hospital acquired infection compensation claim form at http://www.asons.co.uk
-Sources-
(1) BBC News, 'Bristol baby death inquest: Superbug source 'unknown' (30/09/2013) bbc.co.uk/news/uk-england-bristol-24333732
(2) Medscape.com, 'Pseudomonas aeruginosa Infections' (16/08/2013) emedicine.medscape.com/article/226748-overview
(3) The Times, 'Baby died in hospital infection outbreak' (12/10/12) http://www.thisisbristol.co.uk/Southmead-Hospital-superbug-Mum-baby-Oliver/story-17074036-detail/story.html#axzz2h2HiBcXE
About Asons Solicitors:
Asons Solicitors is a Bolton-based law practice that specialises in personal injury and industrial disease claims. Founded by brothers Imran Akram and Kamran Akram, Asons Solicitors has developed to become a young and dynamic law firm that delivers practical solutions to clients in times of difficulty. Their continued focus on their staff has seen them awarded with the Investors in People "Gold Award"; which is reflected in the professional and personable approach they take in working with clients. They strive to grow and to develop, and their supportiveness and attention to detail ensures that their clients use them time and again.
For further information contact:
Email: info(at)asons(dot)co(dot)uk
Website: http://www.asons.co.uk