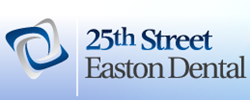 There is a huge need for this program and we're just excited to be able to offer it to whoever needs it
Easton, PA (PRWEB) October 03, 2013
According to a recent study by the Kaiser Family Foundation, more than 100 million Americans don't go to the dentist because they can't afford it, but a new payment option that's now being offered by 25th Street Easton Dental, makes it possible for many to receive care.
A company spokesman for 25th Street Easton Dental, which serves patients in Bethlehem, Easton, and Nazareth, Tatamy, Stockertown and the surrounding areas, explained that the family dental office has partnered with The Liberty Dental Program, which is designed for people who do not possess dental insurance or would like to supplement their existing dental insurance for an even greater savings.
"We offer a wide variety of payment options, such as all major credit cards, all traditional insurance, PPO insurances, and Union programs, but the Reduced Fee Program was really needed as well, so now we're offering this option as well," The company spokesman said. "There is a huge need for this program and we're just excited to be able to offer it to whoever needs it."
According to the Kaiser Family Foundation study, one in four children have untreated tooth decay, now the most common chronic illness among school-aged children in the United States.
Adults, the report revealed, fare no better, and one in four Medicare beneficiaries are missing all of their natural teeth — a problem that threatens not only among the elderly, but also the very poor.
Low-income families and racial and ethnic minorities tend to be disproportionately affected because they tend to lack access to care, according to Kaiser.
25th Street Easton Dental's goal, according to the company spokesman, is to provide its patients with exceptional dental care and personalized attention.
According to the Kaiser's most recent data, 25th Street Easton Dental's exceptional dental care, personalized attention, and its new Reduced Fee payment option is needed, due to the fact that more than 19 million children have no dental insurance — more than twice the number who went without health insurance.
Low-income adults receive limited Medicaid benefits for dental care, but even those have been threatened by the economy: 13 states recently said they cut dental benefits for adults in 2011 or planned to do so this year.
"This program is designed to make the high cost of dental treatment more affordable," The company spokesman stressed. "The coverage information shows how it can save a significant amount when compared to traditional fees. This program also covers dental implants and cosmetic dentistry."
For more information, please visit: http://www.25thstreeteastondental.com
About 25th Street Easton Dental
25th Easton Dental serves patients in Bethlehem, Easton, and Nazareth, Tatamy, Stockertown and the surrounding areas.
It provides a full range of dental services whether patients need a cosmetic dentist, routine cleaning, implant dentistry or an emergency dentist.
Contact Information
25th Street Easton Dental
25th Street Shopping Center
2441 Nazareth Road
Easton, PA 18042
Phone: 484-544-0059