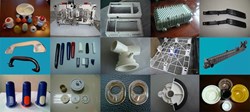 (PRWEB) October 03, 2013
Since the introduction of plastic injection molding, Wuxi Glory Plastics has proven to be an industry leader, especially in the field of custom plastic molds. Today, the company announced a special offer on all its state-of-the-art plastic molds; custom plastic molds are available with great discounts as well.
Wuxi Glory Plastics is offering a customer-focused approach to its designs and services; the company has earned a reputation as a superior, custom plastic mold provider. Many buyers consider the company as a reliable partner. The products from Wuxi Glory Plastics are widely used in a wide range of industries, delivering a truly unique and interactive experience.
"We are exited to launch the promotion and provide one-stop plastic mold solution for our customers. We focus on continuous improvement on our plastic molds; our management team has much experience in plastic product design, mold design and others, as well as an extensive knowledge of plastic processing," says the CEO of the company. "We especially hope we can explore our market in some countries including the UK, Thailand, Greece, Morocco, Italy, Japan, etc."
In addition, Wuxi Glory's international quality standard can ensure the premium quality in its products. The company has gained the industry's trust with unmatched customer service, superior quality control standards, and an on-time delivery rate of 99%. With the growing importance of plastic molds in the industry, Wuxi Glory can seamlessly integrate its products on its website and offer the customers a great shopping experience.
Wuxi Glory Plastics was established in the year 1995. It is a China based manufacturer which is an industry leader in the China plastic industry. It is known for its high end services and competitive rates. For more information visit their site address at http://www.plastics-molding.com/