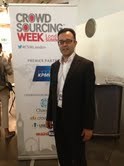 London, United Kingdom (PRWEB UK) 3 October 2013
Crowdsourcing Week is an International summit for thought leaders and innovators to share cutting-edge ideas, exchange insights, and explore the possibilities of crowdsourcing.
Crowdsourcing is the coming together of a group of people – a "Crowd," to help solve a given problem or issue being faced by a company or organization. It is a global, open invitation to innovate, to create and to generate ideas plus solutions to benefit organizations.
The future is based on participation and the ability to co-create an increasingly connected world. This new way of doing things – co-creation, collaboration, open innovation and crowdsorcing – is challenging business models and the workings of organizations across the board, offering immense opportunities to rethink and reinvent conventional processes.
Prominent personalities will be present at the CSW Summit, bringing examples of how crowdsourcing has allowed them to stimulate innovation in their markets, helping to improve the profitability of their organizations.
Bruno Pellegrini, Userfarm CEO, the leading European player in crowdsourcing video, will focus his speech on innovation that the crowdsourcing video can give the brand in terms of unlimited creativity.
CSW Summit will be at Westbourne Studios Lecture Theatre in London (UK), Thursday, October 3rd.