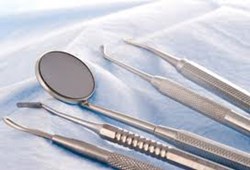 We have become vigilant against hospital acquired infections, and dental practices need to be held to the same standards.
Bolton, UK (PRWEB UK) 9 October 2013
According to Herald Scotland, Ronnie Barogiannis has described his conduct as a "Stupid Mistake," after he was investigated for practising without being registered.
Investigations into staffing arrangements found that dentist Ronnie Barogiannis was working without a General Dental Council Registration (1) . Further issues were highlighted, and due to hygiene concerns, 900 of the surgery patients were allegedly warned that they may have been exposed to blood borne infections (1).
As reported in Herald Scotland, Mr Barogiannis had made "two or three" registration applications since June 2011, but each one had been incomplete (1).
Speaking on the circumstances, the General Dental Council spokesman stated the following (1) -
"By law all dentists, dental nurses, dental technicians, clinical dental technicians, dental hygienists, dental therapists and orthodontic therapists must be registered with the GDC to work in the UK. This is to ensure only appropriately qualified and skilled dental professionals are part of the dental team looking after patients."
Being registered with the General Dental Council holds dentists to certain standards. According to their website, to be registered, dentists must have proved they are trained and qualified (2).
Considering the circumstances, Asons Executive, Suzanne Yates –
"If a dentist is not registered, there could be a worrying reason why. If you are about to have an appointment with a new dentist, checking that they are registered is one of the best safeguards.
"It is also important to note whether or not hygiene protocols are being followed. We have become vigilant against hospital acquired infections, and dental practices need to be held to the same standards."
In the event that someone considers themselves to have been subject to dental negligence, they must seek legal advice as quickly as possible. Asons Solicitors deal with dental negligence claims on a regular basis, you can contact them on: 0844 850 1062 or you can fill out their clinical negligence claims form at http://www.asons.co.uk
-Sources-
(1) Herald Scotland, "Unregistered dentist sorry for 'stupid mistake" (18/09/2013) heraldscotland.com/news/home-news/unregistered-dentist-sorry-for-stupid-mistake.22182848
(2) The General Dental Council, "Standards of Care" gdc-uk.org/Membersofpublic/standardsofcare/Pages/default.aspx

About Asons Solicitors:
Asons Solicitors is a Bolton-based law practice that specialises in personal injury and industrial disease claims. Founded by brothers Imran Akram and Kamran Akram, Asons Solicitors has developed to become a young and dynamic law firm that delivers practical solutions to clients in times of difficulty. Their continued focus on their staff has seen them awarded with the Investors in People "Gold Award"; which is reflected in the professional and personable approach they take in working with clients. They strive to grow and to develop, and their supportiveness and attention to detail ensures that their clients use them time and again.
For further information contact:
Email: info(at)asons(dot)co(dot)uk
Website: http://www.asons.co.uk