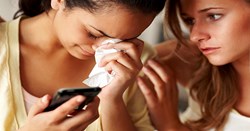 "This Movement against Bullying needs to gain more momentum and that only happens with sharing knowledge and experience and truly empowering children to stand up for their safety online and everywhere"
London, UK (PRWEB) October 06, 2013
Betty Wittels Talks to NoBullying.com about the Increase of Bullying and Cyber Bullying in an interview released today.
Betty Wittels, L.P.C., has been a psychotherapist for 37 years. Besides co-founding a shelter for runaways she worked for Juvenile Corrections for 32 years. She still maintains a private practice in Tucson, Arizona.
When asked whether bullying is as big an issue today as it was 10 years ago, Wittels said, "It has drastically increased. 10 years ago bullying of students by students for example took place on the way to school, in school, and on the way home. It appears to be even worse in adult life where there is no such policy and people are subjected to their bullies without any sort of protection."
She comments on the rise of Cyber Bullying by saying, "Technology has opened the door for endless bullying. The affected students are tormented on social websites, such as Facebook, basically 24/7. People have been driven into committing suicide because of constant public humiliation due to websites set up for this sole purpose. Smart phones provide access around the clock which enables bullies to continuously pursue their victims."
She advises bully victims to "Speak Up", elaborating "Don't be silent and let it happen. Reach out for help and let others know what is being done to you."
She recommends to parents to get a strong line of communication open, saying, "A strong parent-child relationship is the key to prevent the worst from happening."
Macartan Mulligan, Co-Founder of NoBullying.com , said "We are thrilled about the vast array of experts in the field willing to share their knowledge and experience with us to combat bullying." He added, "This Movement against Bullying needs to gain more momentum and that only happens with sharing knowledge and experience and truly empowering children to stand up for their safety online and everywhere."
Mulligan encourages experts from all over the world to join the Movement against Bullying by contributing to NoBullying.com via media(at)nobullying(dot)com.
He added that parents and teachers should make a point to educate the younger generations about the sad outcome of bullying online and off line.
NoBullying.com features many pages dedicated to parents, teens, teachers, health professionals as well as posts related to cyber safety and the latest news about law making concerning curbing Bullying worldwide as well as inspirational Bullying Poems and Bullying Quotes.
The website makes a habit of updating its bullying statistics and cyber bullying statistics regularly because it is essential to understand how widespread the bullying epidemic is.
He also added that anyone suffering from bullying in any form or way can always reach out to the team of NoBullying and they will be given advice on how to stand up to bullying or protect themselves online.
The founders of the website hope that viewers can truly learn about bullying definition as well as school bullying and workplace bullying and put a serious effort to making it stop by education and caution and not by violence. NoBullying.com is not a mere website but an actual movement against bullying.